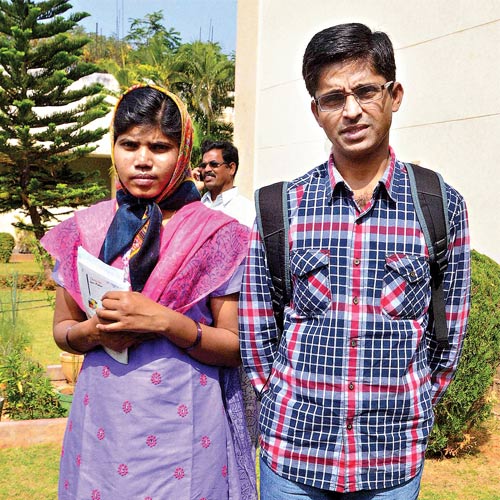 In a damaging rebuttal of CPI (Maoist) Dandakaranya Special Zonal Committee (DKSZC) secretary Ramanna's statement, the surrendered spokesperson GVK Prasad aka Gudsa Usendi has claimed that one of the main reasons for his leaving the party was indiscriminate and excessive killing of innocent tribals by branding them as informers and anti-people policies.
Soon after Prasad's surrender early this month, Ravulu Sriniwas aka Ramanna, the brain behind several massacres of security forces as well as civilians, including the massacre of Chhattisgarh state Congress leadership at Jiramghati, had branded Prasad as a renegade suffering from moral turpitude left behind his wife Raje to run away with another woman cadre, Santoshi Markam.
Rubbishing all allegations levelled by Ramanna on his personal life and attributing serious policy differences as the reason for it, 52-year-old Prasad in a recorded statement said, he surrendered for two reasons – one, the party was going astray, doing things that were weakening its mass base and, two, his own and partner Santoshi's deteriorating health.
Prasad's statement raises serious questions about flawed policies of the CPI (Maoist) that are steadily shrinking its mass base and in the end might prove to be its nemesis.
"I opposed indiscriminate and excessive killing of adivasis in the name of destroying informer network. I always insisted that other methods need to be pursued and emphasised for this. I wrote several letters to the central leadership and consistently discussed in the rank and file in this regard," says Prasad in the statement made available by Andhra Pradesh police.
He says how he continuously opposed destruction of high tension wires in Bastar region twice in 2007 and then again in 2009 as he thought it would make the life of the people difficult.
"But the central committee leadership never realised that it is due to these kinds of acts that the mass base of the movement is weakening continuously and we have been getting isolated particularly from the intellectual/middle class section in the region. Regarding the approach towards reform activities pursued by the governments, I always emphasised that we must always uphold the mass line instead of stopping them forcefully. But the party leadership never bothered about that seriously," Prasad said.