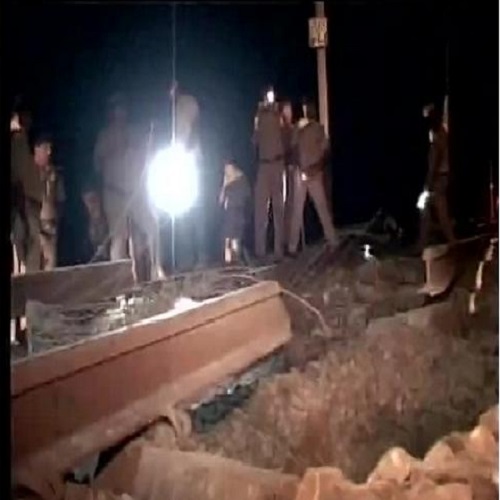 Maoists blew up Delhi-Howrah railway track in Amamasilva village near Aurangabad district of Bihar. The incident is reported to have taken place around 11.30 pm on Tuesday.
Arunendra Kumar, the chairman of the Railway Board, said, "The patrol train was run ahead of Rajdhani as precaution to the bandh called by Maoists. The engine of the patrol train running ahead of the Rajdhani derailed (in Aurangabad, Bihar) because of the blast on the track".
Ghulam Shah, Electrical Driver said, "I saw the smoke, just after seeing the smoke there was a blast. I tried to stop the train coming from that direction. Sealdah Rajdhani, Howrah Rajdhani and Bhubaneswar Rajdhani were behind it."
No casualty was reported in the blast that took place late last night, Deputy Inspector General of Police, Magadh range, PK Shrivastava told media.
Abdul Bashit, a passenger going from Allahabad to Gaya added, "There was a red light; on seeing the signal the train was halted. The pilot engine driver saved the lives of all the passengers. First around 20 paramilitary personnel reached the spot then around 150 policemen also reached but when the blast happened there was no protection for 10-15 minutes."
Gaya Additional Superintendent of Police Ashok Kumar Singh, who rushed to the spot after the incident, said the explosion took place during the one-day bandh call given by the Naxals against police firing in Aurangabad and Rohtas districts recently.
The security has been tightened through deployment of additional forces to prevent untoward incidents during the bandh, said the Magadh range DIG
Nearly one dozen mail and Express trains including three Rajdhani Express trains have been stranded at various places between Gaya and Mughalsarai due to the incident.
A month ago, at least four passengers were killed and eight injured when the Delhi-Dibrugarh Rajdhani Express was derailed at Golden Ganj station near Chapra, because of suspected sabotage by Maoists.