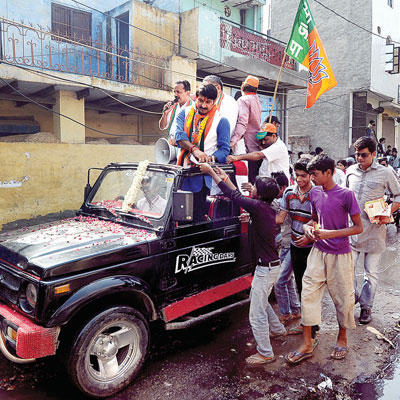 Dressed in a white sleeveless jacket, a blue kurta and a saffron stole, he truly looked like a hero. While standing in his open jeep, he kept hands folded in gratitude and looked his charming best while the crowd gasped to have a glimpse of him.
Bihar ke Lala, Bhojpuri superstar, actor and singer Manoj Tiwari, who is contesting the Lok Sabha election from the North-East Delhi constituency ensured he did not fail to hug youngsters and shake hands with women and children by getting down from his vehicle, on an off.
Tiwari was campaigning in the narrow lanes of the Zero Pusta Colony. His day began at 8 O'clock in the morning.
While talking to dna, he shrugged off any chance of a tough competition from Jai Prakash Aggarwal, who represents the Congress, and regarded to be one of the most active Parliamentarians. "A tough competition from the Congress is a joke in itself. In the Assembly election, Delhi showed what it's looking forward to," Tiwari said.
"People this time will be voting for the country. I am for the development of the country. Look at the condition of the streets. Would anyone say we are in Delhi? I want to bring this constituency on par with other places in Delhi," Tiwari said, while his supporters, who were clinging to the jeep holding a huge saffron flag and a loud speaker, kept chanting slogans like hamara neta kaisa ho, Manoj Tiwari jaisa ho and chappa chappa bhajpa.
The constituency, which largely consists of migrants from UP and Bihar, and has a pretty decisive Muslim population, saw excitement overflowing even from the crowd. Most people, who stood on the pavements, were taking Tiwari's photos on their mobile phones. Some of them came a little nearer to offer a garland or just to touch him.
As the convoy passed through the congested alleys of the colony, children ran behind it to catch paper pamphlets being flown by party workers.
However, everyone was not impressed. "I don't think the migrant population is very happy with Tiwari contesting from our constituency. We think he will just be like another celebrity and go away. We have little or no choice. The Modi factor will fetch our votes to the BJP," said Rahul Raj, who hails from Patna and has been living in in Burari for the last few years.
"We like his songs. We play them during Navratras. However, that is not the reason why we will vote for him. The only reason is because we want the BJP to come to power," said Dev Chander, owner of one of the general stores.
"We are disappointed with Aam Admi Party (AAP) over Arvind Kejriwal's resignation as CM. Narendra Modi seems to be a better option. He is expected to develop the country," said another man.
The biggest problem of the area seemed to be the improper drainage system. Sewage overflows to the roads, making the lane filthy. "We expect him to improve the conditions we live in," said Srikant Kumar, originally hailing from UP but has been living in Delhi since 2002.
Talking about AAP, he said: "It has lost our trust. It's not only that Kejriwal ran away but even his method was wrong. You cannot change the constitution overnight. Either he shouldn't have formed the government, or else he should have got the work done strategically."
Middle-aged Kusum Tiwari, however, couldn't help blushing after throwing rose petals on her favourite Bhojpuri star. Kusum, a housewife, said that during the Congress's regime, kitchen expenses rose the most. "Food items have become so expensive. We want to change this situation," she said.