PM gives new twist to the raging debate over two power centres in party.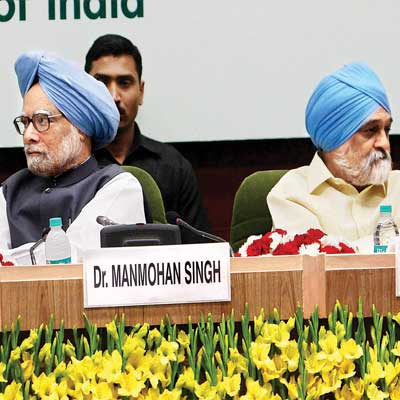 Even as the Congress, its allies NCP and SP and the opposition JD (U) took pot shots at Gujarat chief minister Narendra Modi over his ambitions to take over reins in Delhi, prime minister Manmohan Singh on Friday once again reignited the debate on 'dual power centres' and his third term for the top executive post after the 2014 Lok Sabha polls.
"The debate on dual power centres had been set at rest by Congress chief spokesman Janardhan Dwivedi," a senior Congress leader said peeving that there was no need for the prime minister to rake up the issue again.
During interaction with mediapersons in the Rashtrapati Bhawan after presentation of Padma Awards, Singh expressed his wish to see Congress vice-president Rahul Gandhi as the next prime minister.
He also slammed the dual power centre theory as "a figment of imagination" and a creation of the media. He dubbed the talk of dual power centres — of himself and Congress president Sonia Gandhi — as a useless debate.
The "useless debate" was ignited by none other than Congress general secretary Digvijay Singh who had described the "two power centres" a failure and advocated "Rahul for PM" while stressing the need for the post to have the political authority to do justice to the decision making. He continued to hold on to this view even after he was contradicted by the party saying the relationship between Sonia and Singh is not only working smoothly but also a model for the future.
Meanwhile, the Congress also made it clear to rake up the 2002 Gujarat riots to consolidate secularists to prevent Modi's march to Delhi. The party even compared him with 'Yamraj', the Lord of Death. The party spokesman Rahid Alvi warned of "consequences" if Modi were to become prime minister. Union minister Manish Tewari said he was worried about Modi's intentions. "...I often worry about the statements of the Gujarat chief minister. I hope he doesn't want to do in the rest of India what he did in Gujarat in 2002," he said.
NDA partner JD(U) also mocked at Modi's statement, saying the country can be served even by serving Gujarat and that he has brazenly expressed his prime ministerial ambition. "The country can be served even by serving Gujarat. Nitish Kumar is serving Bihar. In a way he is also serving the nation," JD-U general secretary and party spokesman Shivanand Tewari said in Patna.
Taking a jibe at Modi, senior NCP leader Tariq Anwar said it appeared Modi was not satisfied with presiding over the Gujarat riots and that he wanted to 're-enact the carnage' in the entire country. Key outside ally Samajwadi Party felt there is more publicity and less work done in Gujarat. "I don't think that a single person can save the country. It's good to dream but public will decide who they want to give the country's leadership to," said SP leader Naresh Agarwal.
Not ruling in, not ruling out
Speaking to reporters, prime minister Manmohan Singh initially dismissed as "hypothetical" a question as to whether he would accept a third term in office, saying "we are yet to complete this term." Pressed further by reporters on whether he was ruling himself out, Singh remarked cryptically, "I am not ruling it in, I am not ruling it out."Last week, 80-year-old Singh had said "We will cross that bridge when we reach there" when he was asked whether he would accept another term in office if offered.
@dna