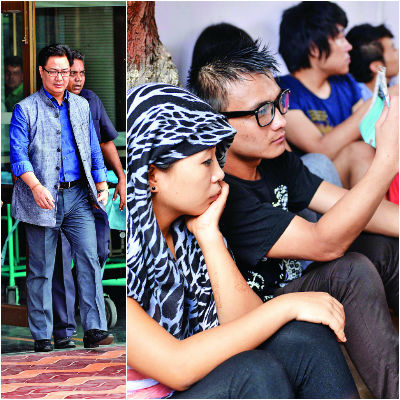 The 29-year-old Manipuri BPO employee, who was beaten to death here early Monday by five youths, had received multiple internal injuries in neck, an autopsy report has revealed.
As per the autopsy report, handed over by All India Institute of Medical Sciences (AIIMS) Trauma Centre to Delhi Police, Akha Salouni had received injuries in abdomen and brain too.
The brutal attack sparked outrage in the northeastern community.
Akha Salouni was assaulted at around 1 am following a spat with the assailants while he was going to a friend's house in Kotla Mubarakpur area in south Delhi to spend the night.
According to the first information report (FIR) which was accessed by a news agency, Akha Salouni and two of his friends - Nagendra Sharma and Dihe Kazhihrii - were coming from Masoorpur in Vasant Kunj in an auto-rickshaw.
"As they entered Kotla Mubarakpur, they came across a white coloured Hyundai Verna, which stopped on seeing the auto-rickshaw," said the FIR filed by Kazhihrii, who hails from Nagaland.
According to the report, five-six men aged between 25-30 got down from the car and started shouting "maro maro", following which they surrounded Akha Salouni and beat him up.
"Watching one of the five men attacking Salaouni, approaching towards Kazhihrii and Nagendra, the two fled the spot," said the FIR.
Kazhihrii, who ran towards his house in Kotla Mubarakpur, later made a call to the police control room (PCR) van around 2 am.
"Later, when the two returned to the spot, they found that Salouni was lying unconscious and within a few minutes he was dead," the report said.
Police, who arrived at around 2.50 am, took Salouni to a hospital where he was declared dead on arrival.
Police later in the day arrested five accused on charges of attacking Salouni.
The killing of 30-year-old man from northeastern state of Manipur in south Delhi on Sunday night has renewed the debate on racism.
The deceased identified as Shaloni, a BPO worker from Pomai tribe of Manipur, was thrashed by a group of six men in Kotla Mubarakpur area, where he had gone to drop one of his friends. Shaloni succumbed to injuries at AIIMS Trauma Centre, where scores of members of northeastern community gathered in solidarity. Delhi Police has registered a case under Sections 302 and 34 of Indian Penal Code and arrested three accused, all residents of Garhi village near Amar Colony area of southeast Delhi. The accused have been identified as Sanjay Basoya (24), Shakti Basoya alias Shanky (21) and Raju alias Bittu (25).
Investigating officials are examining evidence to decide, whether SC-ST Act would be added to the FIR. The CCTV footage retrieved from a camera installed at a shop at the spot helped police to crack the case.
Also read: Manipuri youth beaten to death in national capital
Post-mortem of Shaloni was conducted at AIIMS, where his sister and cousin had also arrived to identify the body.
The incident comes a few days after body of another Manipuri was found in a drain in South Delhi under mysterious circumstances. His friends alleged that it was a 'hate crime' and Kawilungbou Chawang, was chased to death.
Minister of state for home affairs, Kiren Rijiju visited the hospital and assured the family members of Shaloni of speedy justice terming the incident as unfortunate but premeditated. "The incident is very serious and disturbing. The report says that it is a pre-planned attack and unprovoked. There could be some conspiracy behind it," he said. He said the recommendations of the Bezbaruah committee set up to look into the concerns of northeasterners living in various parts of the country would be implemented soon. However, Rijiju stopped short of calling it a 'racist attack.' "In every community there are good people and bad people. We are hopeful that police would do its job in best possible way dig out the truth," he said.
Preliminary investigations revealed that Shaloni along with his two friends D Kaza Hiri of Manipur and Nagender Sharma of Bihar had come to Kotla Mubarakpur to drop Hiri. The trio was coming from a friend's place near Vasant Vihar at around 2 am in an autorickshaw.
While they were walking towards Hiri's residence, the group of accused men, traveling in a car started abnormally honking at the trio. "They even tried to brush past the trio, who reacted verbally. This triggered a minor brawl ending in a horrible killing," said a senior police official.
The two friends of Shaloni managed to fled from the spot, one of whom made a PCR call at around 2:47 am. Police immediately reached the spot and moved Shaloni to AIIMS, where he was declared as dead at around 3:10 am. Shaloni stayed in a rented accommodation along with his sister and cousin at Munirka area of south Delhi.
The death has once again angered the northeastern community in the capital, who reiterated their concerns against deep rooted racism in the country, especially in the capital. "It is a murder. Let police investigate the crime without any bias. Racism is prevalent in India we face it every day. People look down upon us. Why would otherwise an unknown person with no stakes kill a stranger," said Paode, a Phd scholar at School of International Studies in Jawahar Lal Nehru University. Paode had come to JNU to express solidarity with the deceased. He lamented that the government and community at large wake up only, when incidents like these happen.
"There needs to be proper contextualisation of hate or racist crime. It starts by calling us as chinkis or momos and ends up in rape or murder of one of us," said Asa Kenneth, a 24-year-old Manipuri, who also stays in Munirka.
Naga Students Union leader J Mavio stated, "He was attacked because he looked different. Most of us avoid raising hue and cry about daily humiliation, we face."
In May this year, three people including a woman lawyer advocating a case of northeastern student, were assaulted in a Delhi Court by a mob of lawyers. In January, a student from Arunachal Pradesh Nido Tania, 20, was beaten to death in Delhi's Lajpat Nagar area.