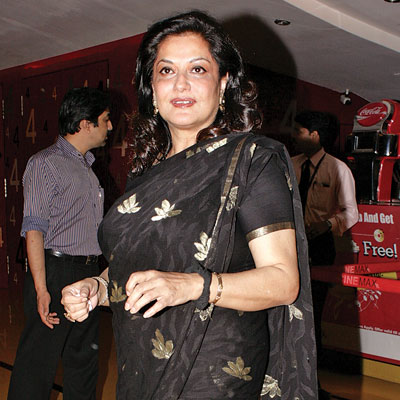 Mamata Banerjee feted Bollywood actress Moushumi Chatterjee on Friday in Nabanna, West Bengal government's administrative headquarters, even as the dust – sorry stardust – began to settle two days after the chief minister unleashed film actors, singers, sportsmen and a Harvard academic on unsuspecting voters.
Banerjee is fielding nine celebrities – a record for any political party in any state. But the stardust has left many sneezing and wheezing in politically conscious West Bengal where many are allergic to glamour.
"Mamatadi took everyone, including her inner circle, by surprise. But she is in for a surprise herself – only two or three from the glamour brigade will win. The rest will fall by the wayside never to fight another election in their life", said an analyst.
Former Indian football captain Baichung Bhutia's nomination has badly backfired in Darjeeling. Gorkhaland Jan Mukti Morcha, an ally of Trinamool Congress, has branded the nomination a "betrayal" and Trinamool a "traitor" inflaming passions in a restive region.
GJMM chief Bimal Gurung declared that the imposition of Baichung [who is from Sikkim and not Darjeeling], is so "anti-hills" that it will expedite the creation of Darjeeling state, a la Telengana, carved out of West Bengal – a possibility Mamata dreads.
Underlining the gravity of the situation, a journalist from Darjeeling told dna that Baichung is as unwanted and welcome in Darjeeling as [Narendra] Modi is in Mallapuram, Kerala.
"Thanks to Mamata, Baichung is looking like a joker," the journalist remarked.
Harvard history teacher Sugata Bose's nomination from Jadavpur has also become the butt of jokes. Sujan Chakraborty, CPI(M) nominee, said, "Sugata is on vacation. Contesting election is his leisure activity during holiday. He will lose and leave."
Sugata is being ridiculed after he candidly admitted that he has no plans to quit Harvard as he is essentially a historian and a man of letters.
Importantly, Sugata is the chairman of Mentor Group for Presidency College tasked with restoring it as center of academic excellence by banishing politics from its campus. Now its students are angrily demanding Sugata immediate resignation from Mentor Group as he has plunged into politics.
"He was lecturing us to be apolitical. He would say politics is undesirable. And now he has jumped onto Mamata's bandwagon. If he has any morals, he should never step into Presidency again", said a spokesperson for Independents' Consolidation, an extreme left student group.
Similarly, the nomination of Moon Moon Sen and Sandhya Roy -- actresses in their 60s and 70s respectively – has stunned and confounded political observers. Their reaction to being nominated and how they plan to cope with the challenge are making many burst their gut laughing.
An analyst said that pitting singer Indranil Sen against junior railway minister Adhir Chowdhury in Behrampore "is a murderous move like throwing a lamb before a wolf". Chowdhury laughed loudly before proclaiming that "Trinamool has been reduced to a party of singers and actors". Nobody, of course, knows who will have the last laugh.