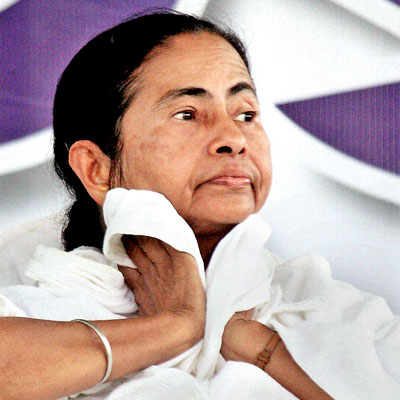 West Bengal chief minister Mamata Banerjee on Monday put up a brave front and sought to play down the impact of the Supreme Court ordering a CBI inquiry into Saradha chit fund scam two days ahead of Monday's last round of polling in the Lok Sabha elections, saying it does not matter to her and that the guilty will be punished.
"We are very happy today. I have no problem with CBI investigating the Saradha scam but money has to be returned to the duped depositors. We had started returning the money, and about four lakh people got back what they had lost. Now, the CBI has to return the money. It's a valid argument that since there is an angle of international money laundering involved, CBI should get involved," Mamata said addressing a rally.
Mamata defended the state's move to prevent a CBI investigation earlier.
"If you ask me why I wanted the state police to do the investigation, I would say why not? After all it has happened in our state and its natural we don't want others to probe it," Mamata said, holding regulators, Reserve Bank of India and Securities and Exchange Board of India, responsible for the crisis.
"They haven't fulfilled their promises and they should be ashamed. Not us. I am totally saved as we don't have to bear the responsibility any more."
Apart from setting up of the Shyamal Sen Commission, which has already started disbursing money to the investors. state finance minister Amit Mitra highlighted steps like arrest of the kingpin, Sudipta Sen, and other officials and subsequently of Kunal Ghosh, group head of Saradha's media business as achievements of the state.
Tell me which other government has done this?" he wondered referring to other similar ponzi scheme scams in Punjab and Haryana.
The Left as well as the Congress in the state raised their voices in support of the verdict and tried to embarrass Mamata.
"The CBI probe should be able to uncover the political nexus behind this large-scale swindling of funds and the money laundering involved," Left Front chairman Biman Bose said demanding confiscation of assets of the Saradha group.
Lauding the Supreme Court verdict West Bengal Congress said the judgment was a personal political defeat of Mamata Banerjee, as she had opposed it.
"The Supreme Court verdict is a personal political loss of Mamata Banerjee. She had opposed the CBI inquiry into the scam, though several people had committed suicide and lakhs have been duped by Saradha and other chit fund companies," WBPCC president Adhir Chowdhury said.