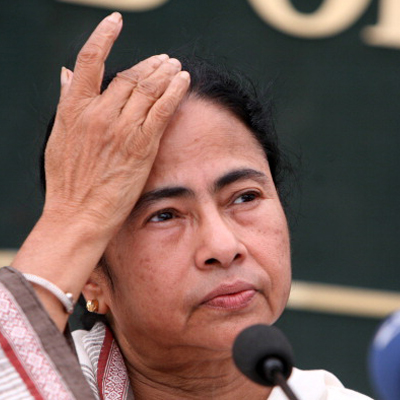 Trinamool Congress chief Mamata Banerjee on Friday attacked the Congress and BJP saying that the two parties did not want anyone else to enter the national arena, while alleging that the CPI(M) had lost it ideals.
"The Congress and BJP don't allow anyone else to enter the national arena. They don't want any third force to come in," Banerjee told an election meeting here in Hooghly district and said that the Trinamool Congress would break this practise after the elections.The CPI(M), BJP and Congress are on the same branch of a tree, they are out to help each other just for the sake of elections," she claimed.
Training her guns on the CPI(M), she said "They have given up their Leftist ideals. A political party has to be based on ideals, but for them ideals have died."
Claiming that the CPI(M) was not visible for the last three years since its Assembly poll defeat except during the panchayat elections, she said, "They surface only during elections." She claimed that had not the CPI(M)-led Left Front left behind a huge debt burden of Rs two lakh crore, the state would have been ahead of other states in development and job creation.
"If we had money, we could have created 20 lakh jobs for our youth," she added.
Alleging that people did not enjoy rights and there were atrocities during Left Front rule, she said, "We have spent Rs 5,500 crore in 100-days job creation under MNREGA taking Bengal to the top among all states in terms of expenditure, while the LF government could spend only Rs 500 crore." Stating that her party had protested against price rise of essentials, petro products and entry of FDI in retail, she said, "We will do the same in future also, we will not sell ourselves to anyone. We don't bow our heads to anybody."