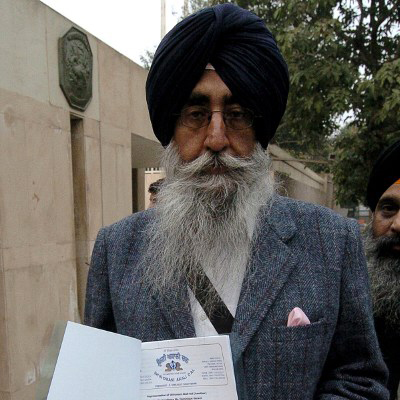 The president of the Shiromani Akali Dal (Amritsar), Simranjit Singh Mann, on Friday demanded the creation of a state of 'Khalistan' to act as a buffer state between India, China and Pakistan.
"Everyone has heard that the Sikh community has just one demand, i.e. Khalistan. It would be a buffer state between, Pakistan, China and India, all three of which are lanced with nuclear power. Hindus, Muslims, Christians and Sikhs would feel safe in this Sikh nation and peace would prevail forever in South Asia. Khalistan is in favor of all the nations and religions," said Mann. "We will make the map of Khalistan very soon, and then, Sikhs would know that it would be the only place in South Asia where there would not be a nuclear war, and all religions and sects would be able to enjoy their life in the Sikh nation," Mann added.
Meanwhile, Shiromani Gurdwara Parbandhak Committee (SGPC) general secretary and spokesperson, Prem Singh Chandumajra condemned this morning's clashes between two Sikh groups in the Golden Temple complex, and added that the incident does not need United Nations intervention.
"The demand for UN intervention should be taken back because we don't even demand the intervention of the Government of India in our Sikh affairs. So, there is no question of UN intervening," said Chandumajra.
Violence erupted in the Golden Temple complex in Amritsar on Friday, when a task force of the Shiromani Gurudwara Prabhandak Committee (SGPC) clashed with Sikh radical groups.
The clash took place after various groups staged protests over Simranjit Singh Mann, the head of the Shiromani Akali Dal (Mann Group), attempting to give a speech from the rostrum of the Akal Takht in the complex. At least twelve people were injured in the clash. Media persons were also assaulted during the skirmish, the reports further said.
Shops in Amritsar downed their shutters after the fracas, which saw opposing groups brandishing kirpans, swords and spears within the Golden Temple complex.