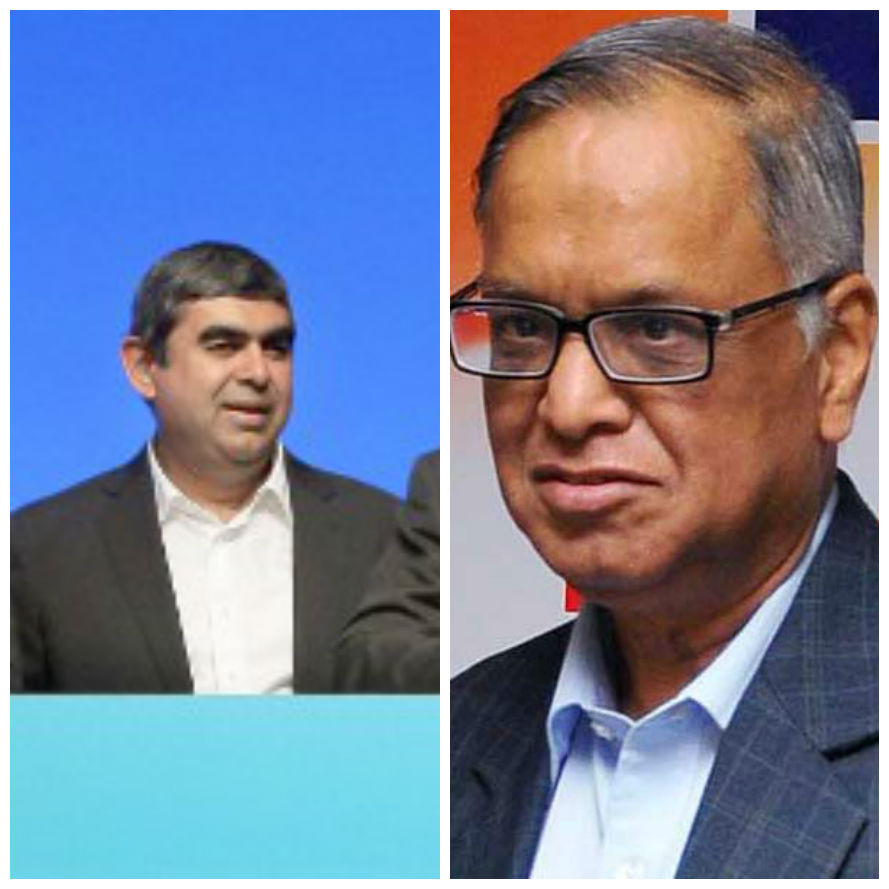 Live Updates:
* There will be no change in Infosys' strategy right now. I am looking forward to learning at the leadership centre at Mysore; will take classes there for a while: Vishal Sikka
* Vishal Sikka says he is honoured to lead Infosys, says the world is getting transformed by software
* Twelve individuals have been elevated to the position of executive vice president with additional responsibilities
* Mr Srinath Batni, whole-time Director of the company, will step down from the Board on July 31, 2014
* SD Shibulal will relinquish his position as CEO and MD on July 31, 2014, after which Vishal Sikka will take over as CEO and MD: Murthy
* Praveen Rao will take over the responsibility of Chief Operating Officer (COO) of the company: Murthy
* I would like to thank all stakeholders and well-wishers of the company for the support and kindness. I also want to thank the members of the office, the CFO and HR.
* Rohan Murthy will be leaving the company on June 14, 2014 and my office will be dissolved on that day: Murthy
* We analysed a long list of potential candidates who could take over the company. After holding interviews in London and Mumbai, we choose Vishal Sikka: KV Kamath
* Nayarana Murthy says Vishal Sikka is the right man to lead Infosys
* I will continue as non-executive chairman till October 10, 2014, after resigning as executive chairman on June 14, 2014: Narayana Murthy. After this KV Kamath will take over as non-executive chairman.
* Murthy says executive vice-chairman S Gopalkrishnan will also step down on June 14 and continue as non-executive vice-chairman till October 10, 2014.
* This will enable Vishal Sikka and his team to make a smooth transition: Murthy
* Sikka means money, Vishal means huge, so Vishal Sikka will bring us huge money: Murthy
* I come from a teaching family where the highest chair is given to an intellectual. Sikka is a true intellectual: Murthy
Infosys Ltd, India's second-largest IT services exporter, on Thursday named former SAP AG executive board member Vishal Sikka as chief executive officer, the first time the company has not chosen one of its founders for the role.
Sikka will take over from current chief executive SD Shibulal, one of the engineers who founded Infosys, on August 1, the company said in a statement to the stock exchanges.
Infosys, which has long been a trend-setter in India's $100 billion-plus outsourcing industry, was under pressure to bring in a new chief executive soon to check an exodus of junior staff and reassure investors after a slew of departures at the top.
NR Narayana Murthy will step down as the Executive Chairman on June 14.
Moreover, S Gopalakrishnan will also voluntarily step down as Executive Vice Chairman with effect from June 14, 2014, Infosys said in a statement.
Sikka, who is considered as the brain behind SAP's Hana platform, will be inducted as whole-time director on the board and CEO & MD (Designate) on June 14, 2014, Infosys said.
Sikka studied computer engineering at MS University Baroda and holds a Phd in Computer Science from Stanford University.
He will succeed Shibulal who will step down from the board on July 31, 2014, much ahead of his retirement next year.
Sikka was previously an executive board member of German tech giant SAP, and was responsible for all products -- from traditional and cloud-based applications to technology and platform products including HANA, analytics, mobile and middleware.
Shares of Infosys were trading higher by nearly 1% on BSE in early trade.
Both Narayana Murthy and Vishal Sikka tweeted about the decision:
Happy to welcome Vishal @vsikka to Infosys. I am confident that Infosys is in capable hands.

— Narayana Murthy (@Infosys_nmurthy) June 12, 2014
Humbled to lead @Infosys an iconic pioneer in IT. Looking fwd to learn & work w/ infoscions & global clients on breakthrough innovation.

— Vishal Sikka (@vsikka) June 12, 2014