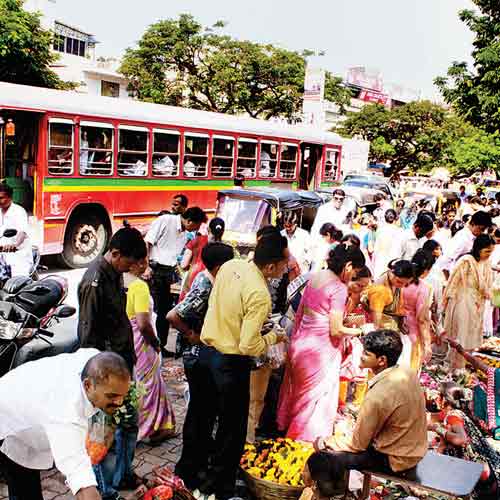 Maharashtra's decadal population growth rate reduced by 6.74% during 2001-11, as against 3.8% points at the national level, the State Economic Survey for 2013-14, tabled in the state legislature, said in Mumbai on Wednesday. According to the survey, this is the highest reduction in population growth rate recorded in Maharashtra so far.
Maharashtra's total population is 11.24 crore, which reside in 2.37 crore houses, as against a population of 9.69 crore which resided in 1.88 crore houses during 2001. The state's gender ratio is 929, as compared to the national figure of 943. However, Konkan's gender ratio happens to be the lowest at 894, while the highest was of Nagpur, at 964.
The state's population density is 365 people per square kilometre, as against 382 people per square kilometre throughout the country. The state has a disabled population of 30 lakh.
There are 4.94 crore people engaged in economic activities, among whom 4.38 crore were mainstream workers, while a population of 0.57 crore were marginal workers. The work participation rate (WPR) increased from 42.4% in 2001 to 44% in 2011. Work participation rate was 56% among men and 31.1% among women. Gadchiroli has the highest WPR of 54.5%, while suburban Mumbai has the lowest WPR at 39.9%.
The survey also says that 50% of Maharashtra's population is below the age of 27 years as against 24.9 years at the national level.
Maharashtra has a total of 228 lakh motor vehicles as on January 1, 2014, which is 20,504 vehicles per one lakh people, which is an increase of 9.4% over the previous year.
Out of the total number of vehicles in Maharashtra, about 23.4 lakh vehicles (10.2%) were in Mumbai. The number of vehicles per kilometre of road length in the state is 94, the survey said. The number of valid motor driving licenses as on March 2013, is 258.7 lakh, showing an increase of 7.6% over the previous year, while the number of learning licenses issued in the state during 2012-13 was 27 lakh.
The number of motor accidents per 10,000 vehicles in Maharashtra and Mumbai during 2013 are 30 and 109 respectively, the survey said. In 2013, 12,194 people were killed and 41,106 people were injured in 61,890 accidents in the state.
Maharashtra had 979.82 lakh cell phone users while the total number of landline connections was 54.12 lakh as on September 2013. Interestingly, the number of cell phone users was higher in 2011-12 at 1067.55 lakh and 987.72 lakh in 2012-13. The number of landline connections have declined from 56.56 lakh in 2011-12 to 54.51 lakh in 2012-13 and 54.21 lakh in 2013-14, the survey said.