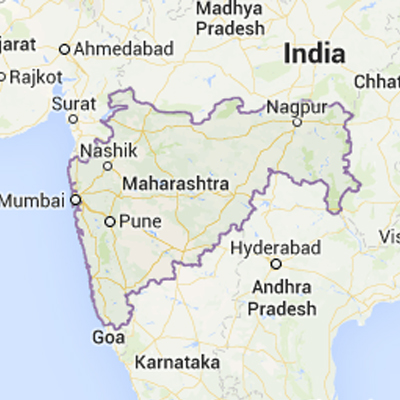 The country's foremost state, Maharashtra tomorrow goes to polls again, in its third and final phase of polling where 19 seats are up for grabs. Of the 19 seats, 6 are in the country's financial capital of Mumbai, where some of the fiercest battles will be fought.
In Mumbai itself the Mumbai Police has made some extra-ordinary security arrangements in order that no untoward incidents occur before or during the polls. In an earlier statement to dna, the commissioner said, "There is no specific threat with regards to election. I would appeal all citizens to come out and vote, and I am confident of a free, fair and peaceful polling," Security Arrangements in Mumbai
In Mumbai, 291 polling booths have been identified as sensitive while another 110 across the other constituencies in northern Maharashtra have been identified as sensitive.
Candidates have found campaigning in Mumbai to be very challenging
Constituencies going to polls - Palghar, Bhiwandi, Kalyan, Thane, Mumbai North, Mumbai North-West,Mumbai North East, Mumbai North Central, Mumbai South-central, Mumbai South Raigad. Nashik Dindori (ST) Dhule Nandurbar Jalgaon Aurangabad Jalna Raver
Key Parties
· Shiv Sena
· Congress
· Maharashtra Navnirman Sena
· Bharatiya Janata Party
Priya Dutt, Milind Deora and Medha Patkar are among the key contestants fighting the elections in Mumbai.
In Pictures - Key Candidates of Mumbai
The Aam Aadmi Party is looking to target the NCP-Congress alliance in Maharashtra on charges of corruption. They have roped in both Medha Patkar and Anjali Damania as part of their team in Maharashtra.
The Shiv Sena on the other hand is looking to reassert its dominance in the state against the Maharashtra Navnirman Sena as this would be the first national election after the demise of their leader Balasaheb. It will be also be a chance to see between the two warring Senas which one gains more voteshare.
In Mumbai, the Mumbai South Constituency will see Milind Deora head to head with Meera Sanyal among others. We take a look
In an exclusive interview with dna, Gopinath Munde claimed Sharad Pawar was afraid of the BJP-Shiv Sena combine. Interview with Maharashtra's BJP' chief Gopinath Munde
In an exclusive interview with dna, Raj Thackeray claimed he would support Narendra Modi for the PM post you can read that interview with Maharashtra Navrnirman Sena's chief
We've also compiled a list of ten things one should know before going to the polls.