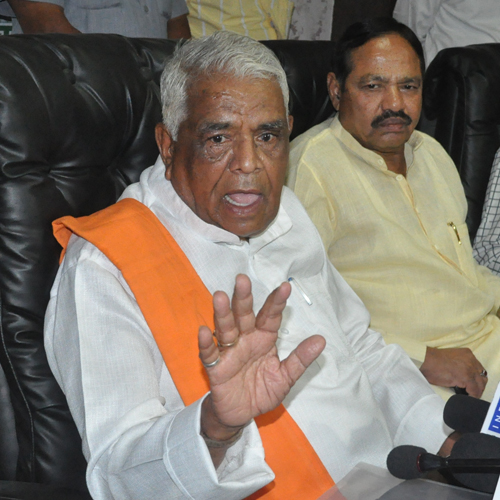 Congress Leader Shobha Oza on Thursday criticized Madhya Pradesh Home Minister Babulal Gaur Yadav's statement that women should become sportspeople to defend themselves against crimes like rape. Demanding his resignation, Oza said: "Home Minister's Babulal Gaur's statement on rape is very unfortunate. It conveys the Madhya Pradesh Government's haplessness in dealing firmly with people involved in women-related atrocities, including rape. Such ministers should resign from their posts."
Mahila Congress leader Mandvi Chauhan claimed that a lot of Dalit and Harijan girls often become victims of rapes, and added that there are more that 200-300 such cases that have not even been registered as yet. "I condemn it, and I assure that the Mahila Congress will definitely take some action against it. The party believes that Babulal Gaur should resign from his post," said Chauhan.
Earlier, Gaur landed himself in a trouble by asking women to have a sportsman life to defend themselves from such crimes. He even supported Mulayam Singh Yadav and Akhilesh Yadav, saying that the Samajwadi Party-led government in Uttar Pradesh could not be held responsible for the recent rape and murder of two Dalit girls in the state's Badaun District, saying "bechare" (poor) Akhilesh & Mulayam.
Gaur also said that no women could be touched without her allowing anyone to do so. The comment left most outraged. Congress leader, Satyadev Katare asked Madhya Pradesh Chief Minister Shiv Chauhan to remove Gaur from his ministerial post.
Two cousins, aged 14 and 15, who were from a low-caste Dalit community, went missing from their village home in Uttar Pradesh's Badaun District when they went out into the fields to answere the call of nature on May 27. The following morning, villagers found their bodies hanging from a mango tree in a nearby orchard.
Five men, two of them police officers, were arrested for the crime that underscored the enduring culture of sexual assault in India and the capacity for appalling violence between Hindu castes.