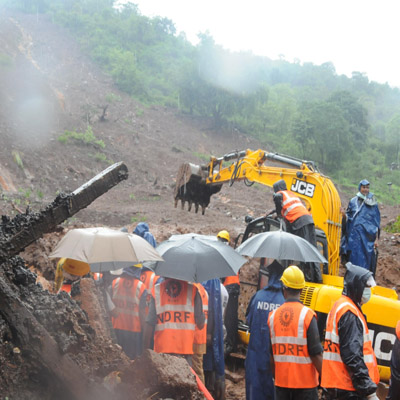 The Malin landslide toll went up to 73 as we went to press. All of them would be alive today, had Indian authorities tracked the National Aeronautics and Space Administration (NASA) alert put out on July 29, the evening before disaster struck.
The alert was posted on the NASA website. This is the story of how official neglect resulted in one of the worst tragedies in recent history.
When did NASA put out the alert?
At 6 pm IST on July 29 (Tuesday). The alert was up on the agency's Website.
What did the alert say?
Images posted by NASA on its Website had marked the Bhimashankar region, including Malin, in purple – the highest alert. Code purple is given when rainfall exceeds 175 mm. NASA's Tropical Rainfall Measuring Mission recorded more than 600 mm rainfall that week in India, most of it between July 29 and 30.
But was there a specific landslide alert?
Yes. NASA's landslide potential map, drawn at 6 pm on July 29, highlighted the entire Bhimashankar region, including Malin. In fact, it described the entire regions around Northern Western Ghats, extending till Gujarat, as "strongly landslide prone".
Who monitors such data and alerts in India?
Dr S Pai, senior scientist at IMD, Pune, admitted he had not seen the NASA alert. "This is something that IMD, Delhi, would monitor since it's from a foreign agency," was his argument. Director of weather forecasting at IMD, Delhi, B P Yadav, had this to say: "We don't need to go by NASA data. We also put out these maps in red and purple," he said. When specifically asked about the potential landslide risk alert, his reply was: "How can that be looked at by the IMD? I think you should check with the Geological Survey of India (GSI)." GSI DG R K Bhasin, who was on a visit to Malin on Saturday, did not respond to several calls.
Was there any other alert?
The South Asian Network for Dams, Rivers and People (SANDRP) had posted an alert on its Facebook page on the night of July 29. Parineeta Dandekar of SANDRP says: "This region, nestled in the Northern Western Ghats, receives heavy rainfall during monsoons. It received very heavy rainfall in the week between July 25 and 31. "If we can monitor these things despite limited resources, why can't the government do it?" she says.
Has India missed any such alert before?
Yes. The Morbi dam burst in Gujarat. The August 11, 1979, incident killed as many as 25,000 people and is listed as the worst dam burst in the Guinness Book of Records. Books like No One Had A Tongue To Speak by Tom Wooten and Utpal Sandesara had debunked official claims that the burst was an "act of God" and pointed out the structural and communication failures. American satellites had again warned of it in advance. But India missed it.
So, was there a NASA an alert on Saturday's Nepal landslide?
Yes. NASA's potential landslide risk alert had marked out the Himalayan regions around Nepal on July 29 itself. On Saturday, a massive landslide, triggered by heavy rains in northeast Nepal, left eight dead and 40 injured, besides burying homes and raising fears of downstream floods that could reach Bihar.