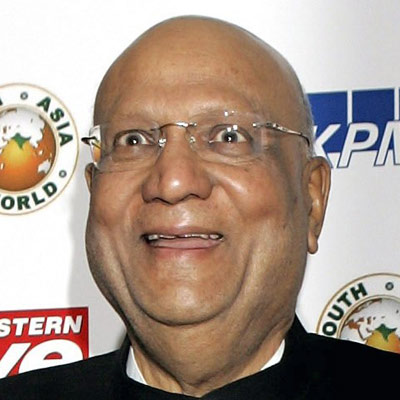 Lord Swraj Paul has hit out at "politicians, pundits and the press" of powerful foreign countries for "thrusting" unsolicited advice on India which was quite capable of managing its own affairs.
The recent Lok Sabha elections had "exposed" the "cascade of unsolicited advice that is constantly thrust on India," the NRI industrialist said at a function here last night.
"As the election has proved, India is quite capable of managing its own affairs without gratuitous suggestions cloaked in the guise of western wisdom," said Paul, the founder-Chairman of the Caparo Group.
He expressed the view that the goal of Prime Minister Narendra Modi had speedily begun the task of uplifting 1.2 billion people of India in terms of health, education and personal earnings to make the country a fair society.
He described Finance Minister Arun Jaitley as "a man of great principle and stature who is determined to take India into a more prosperous era" by getting the economy onto a sound footing without resorting to quick-fix solutions.
Inaugurating a one-day Global Indian Excellence Summit and Awards 2014, Paul took the opportunity to congratulate Prime Minister Modi and his government.
Paul received the 'International Icon of the Decade Award' from Prof Malcolm Mcdonald of Cranfield School Management for his outstanding achievements in the fields of manufacturing, education and philanthropy.
In his acceptance speech, Paul dedicated the award to the 1.2 billion Indian people.
In his inaugural speech, he said the recent elections in India re-affirmed the maturity of Indian democracy.
"Almost 600 million people voted without much regard to caste, creed, or sectarianism. Whether someone was Hindu or Muslim, high caste or low caste was largely irrelevant. The primary public focus was on who would be the right persons to deliver the right policies," he said.
Paul said one thing that India must recognise and appreciate is the enduring value of investment in infrastructure and manufacturing against the more transient nature of stock market investment.
The first is of benefit to many, the second of benefit to very few.
Referring to corruption, he said "while India has to curtail its side, those who do business in India have to be more conscious that they should be less part of the problem and more part of the solution."