After taking the battle to Delhi from Kerala, Jazeera believes her efforts will bear fruit.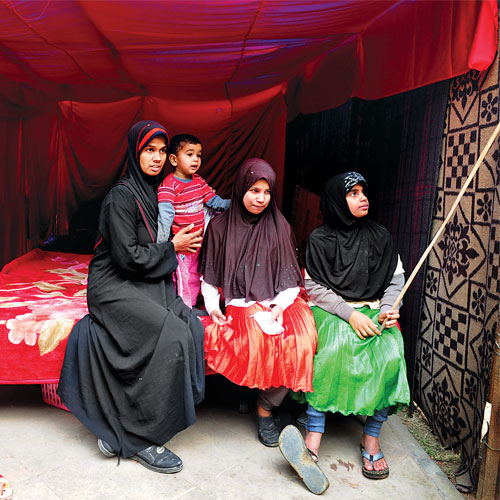 For 31-year-old Jazeera, Delhi's harsh weather and son Mohammed's chronic skin disease are small impediments in the battle against the Kerala sand mafia that she launched at Jantar Mantar over two months ago.
She believes that her struggle would bear fruit, if not soon, then later.
Jazeera reached Delhi on October 6 when the Kerala government turned its back on her and refused to hear her voice. "I have been sitting here at Jantar Mantar for the past two-and-a-half months against sand mining on Kerala coast by sand mafia," said Jazeera while attending to her three children, Rizwana (12), Shiphana (10) and Mohammed (1.9 years).
A resident of Madayi village in Kannur district, Jazeera has been raising her voice against sand mining for the last two years. And in the last six months, she has been on the streets, both in Kerala and New Delhi. "Sand mining of rivers was quite rampant in Kerala for construction purpose, but since village panchayats stopped mining from river basins, the mafia started mining sand from beaches which is extremely dangerous to the ecology. Jazeera raised her voice against this and met several officers, including the collector at the district level, but all her efforts went in vain," said Bindu Menon, who teaches at Lady Sriram College in Delhi who spoke to dna on Jazeera's behalf as she is not well-versed in Hindi or English.
Jazeera doesn't look tired at all despite a plethora of odds against her. "I will continue sitting her until my voice is heard," gestured Jazeera. Bindu later explained her real worry. "Many people in Kerala work in the Middle East and they sent money to their relatives in the state. People are constructing big houses from this sand mined from beaches," added Bindu.
It started when Jazeera returned to her native village from Kannur town where she works as rickshaw driver, and saw that the beach she and her childhood friends played at has almost disappeared; and the tides of the ocean are hungry to swallow her tiny village.
She approached the police, even staged a protest outside the state secretariat for two months in August and September but her voice remained unheard which left her with no choice except heading for Delhi.
In Delhi, she met several ministers and asked them to intervene. Several members of the Nation Human Right Commission (NHRC) have met her and also taken up the matter with the state government. However, no action has been taken by the state government on sand mafia. "I also met chief minister Oommen Chandy once. He gave us assurance of action but nothing changed.
The collector who visited the site refused to accept any sand mining taking place," Jazeera said despite barriers of language.
Jazeera has been awarded Rs five lakh by Kochouseph Chittilappily, chairman of V Guard group, for her crusade. "Another person from Kerala who is member of one of a famous bands in Middle East has announced an amount of Rs 1 lakh for her," added Bindu.