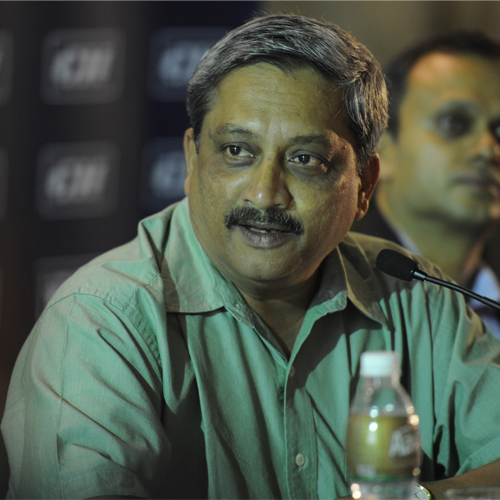 Claiming that the upcoming Lok Sabha elections would be a fight between BJP and Congress, Goa Chief Minister Manohar Parrikar today dismissed the possibility of a Third Front government saying "ten laddoos cannot make one big laddoo".
"The elections will be held in the national scenario and the contest will be between BJP and Congress. There will be no Third Front," Parrikar said during a meeting of intelligentsia organised by the Friends of BJP here.
"Ten laddoos cannot make one big laddoo. This way the government cannot be formed," the BJP Chief Minister said on the possibility of a Third Front government.
He said Narendra Modi would "absolutely" become the next Prime Minister.
"There are various signals to the imminent victory," he said, adding even the US Ambassador's proposed meeting with Modi hints at this.
Attacking Aam Aadmi Party leader Arvind Kejriwal, he said that "the Delhi Chief Minister's dramatics would continue for the next 100 days and that he has taken the contract of giving breaking news".
He said while AAP leaders were chanting 'Bharat Mata ki Jai' they were asking for "a referendum on the Kashmir issue".
"The Delhi government has asked the vigilance department to look into corruption cases, but they were referring its officials as thieves," he alleged.
The Goa Chief Minister said only the Lokpal would not be able to stop corruption. "What if Lokpal becomes corrupt?" he asked, and said to check corruption there was a need of change the society.
Alleging that the Congress-led UPA government was involved in every scam, Parrikar said if the country was to be saved there was only one option - to bring BJP to power - and in this Uttar Pradesh has a crucial role to play.
He also criticised Samajwadi Party supremo Mulayamj Singh Yadav and Chief Minister Akhilesh Yadav over alleged corruption in the state.