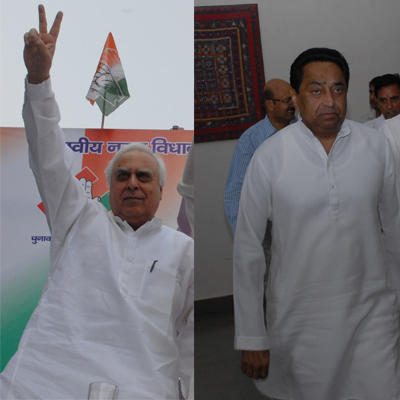 Union Ministers Kapil Sibal and Kamal Nath on Thursday cast their vote from their respective constituencies as voting is underway in 91 seats in 11 states.
In Madhya Pradesh, Nath cast his vote from the Chhindwara constituency in Madhya Pradesh, from where he is contesting the Lok Sabha elections.
"Today is a festival of democracy. Being a part of the celebration and welfare of people of Chhindwara is important for me," said Nath.
"I didn't find any reason for me to panic about my result," he added.
In Delhi, Sibal and Bharatiya Janata Party (BJP) leader Harshvardhan, who are contesting against each other from Chandni Chowk constituency, cast their votes.
"I have voted for what I stand for and what my party stands for. The biggest issues for people are poverty, basic needs, food and sanitation," said Sibal.
Meanwhile, former IPS officer turned social activist Kiran Bedi and Vice President Hamid Ansari also cast their vote in Delhi.
Voting is underway in Chhattisgarh (1), Haryana (10), Jammu and Kashmir (1), Jharkhand (5), Kerala (20), Madhya Pradesh (9), Maharashtra (10), Odisha (10), Uttar Pradesh (10), Bihar (6), Delhi (7), Andaman and Nicobar islands (1), Chandigarh (1) and Lakshadweep (1).
As many as 1419 candidates are contesting for the 91 seats. The polling started at 7 am in the morning and will end at 6 pm in the evening. In Chhattisgarh's Bastar district, where polling is underway, voting will end at 3 pm.