Even as major political parties finalise and release their election manifestos this week, social activists and civil society leaders have come together with their very own womanifesto urging candidates to focus on issues of crimes against women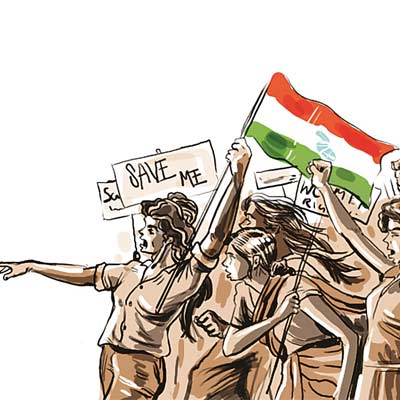 In a few days from now, the country will go to the polls to pick a government to represent their needs. And even as politicians intensify their campaign efforts, activists representing a motley crew of causes urge their candidates to focus on issues that matter the most to them.
However, there is one cause that Congress, BJP and AAP are singularly united on—women empowerment.
And with India's recent track record of crimes against women, it comes as no surprise that AAP, Congress and BJP, who probably have little common ground to agree on, would prioritise women rights and development at the center of their campaign.
Civil society leaders and activists decided to benefit on this opportunity, and in process launched the Womanifesto, a six point plan to ensure women's freedoms and development.
"If there's one unexpected thing Narendra Modi and Rahul Gandhi could agree on is a plan for women's freedom," their campaign, supported by the website of global advocacy organisation Avaaz, explains.
"This parliament and the government will be remembered for their responsibility to act in the face of the brutal attack on the Delhi gang-rape victim. The national outcry it sparked revealed grotesque levels of violence against women, who live in fear in India," shares Ricken Patel, Executive Director at Avaaz.
"When men and women across India came out onto the streets last year, and said "Enough" to the government and politicians, it gave us the audacity to demand that government truly serve all its people,"says Patel recalling the aftermath of the Delhi gang-rape.
The document spells out the concerns of violence against women, of freedoms, safety and equality for India's women and girls, whilst urging politicians to consider its recommendations into their party's clarion call. "If we act now, we can get them and other party leaders to make it happen," they call for action, representing personalities from all walks of life, including include economist and Padma Bhushan Awardee Devaki Jain, Supreme Court Advocate Karuna Nundy, Kamla Bhasin of Sangat South Asia, and Suneeta Dhar of Jagori.
So what are these 6 points of actions?
Educate for equality: Comprehensive, well-funded and long-term public education programmes to transform the culture of patriarchy and gender-based discrimination.
Make laws count: Get each government agency to produce a detailed and funded action plan to end violence against women and increase the number of judges to 40 per million population.
Put women in power: Ensure political empowerment of women by approving the Women's Reservation Bill in Lok Sabha.
Police for the people: Change service rules to recruit, promote and penalise police and prosecutors based on gender metrics.
Swift, certain justice: Improve the laws to end violence and discrimination against women and sexual minorities.
Economic flourishing: Ensure dignified and secure employment for women, with equal pay for equal work.
The Womanifesto distils the demands of many groups and prominent leaders into a single, actionable programme for change."These are six short points that would give us the real change we need in areas like education, legislation, police, the justice system and support to survivors of violence," explains Supreme Court Advocate and co-founder of the Womanifesto Karuna Nundy.
The manifesto has already seen publicly endorsement by Arvind Kejriwal on behalf of the AAP, referring to them as 'six beautiful points'. It has also received commitments from Jay Panda of the BJD as well as the CPI (ML).
Yes, I do & will support the #Womanifesto. BJD platform had alrdy been finalised when I was contacted, but is in sync http://t.co/rXZ37O2mlU

— Baijayant Jay Panda (@Panda_Jay) March 26, 2014
#Womanifesto is a great idea! In line with #AAPManifesto and vision. I endorse it. http://t.co/dQADwEI2Gh

— Yogendra Yadav (@AapYogendra) December 2, 2013
The campaign has also received endorsement from leading feminists like Devaki Jain and famous actresses like Kalki Koechlin.
Why does it matter?
"Because how women's rights feature in the Lok Sabha elections and in parties' manifestos doesn't just concern Indian women and girls, rather affects the nation as a whole," answers Nundy. "It's been proven that mindsets and attitudes to violence can be changed when governments set their minds, and funds, to it, and the 2014 elections can be our turning point for India," adds Nundy.
So why now?
"Election time is the moment when voters have the greatest power to demand change," they explain. "Politicians should hear from citizens that priorities have changed, and now that over half voters are women, the Womanifesto shows how India's mood has evolved," they add.
"Also while there are existing measures, broader reforms are the need of the hour," says Nundy. "For instance, public education is needed to challenge the anti-women attitudes that lie behind the rape crisis and equal pay should be secured for men and women doing a similar job. Womanifesto sets out a comprehensive road map towards women's protection, equality and freedom," she elaborates.
Nundy, adds in conclusion, "This election presents a historic opportunity to vote for candidates who truly commit to the freedoms and equal power for women. It's time for politicians to stop taking women's votes for granted. The AAP's leader, plus MPs from several parties have thrown down the gauntlet, and now all eyes are on Congress, BJP and the others in the next few days to see if they will back this agenda to transform the lives and prospects of India's 600 million women."