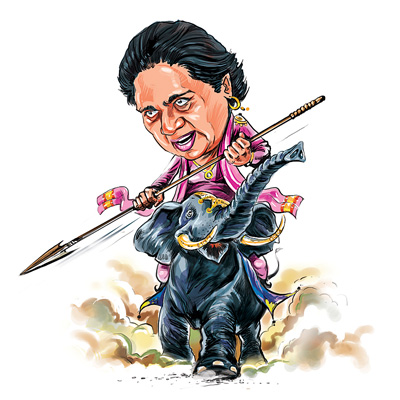 While leaders like Narendra Modi, Rajnath Singh, Mulayam Singh, Rahul Gandhi and Sonia Gandhi bask in the glory of headlines in both the print and the audio-visual media mired nowadays in the electoral 'Mahabharata', political analysts find it rather strange that BSP chief Mayawati virtually goes unsung and un-noticed even in the regional media of Uttar Pradesh, leave alone the national mainstream media.
While rallies of such top leaders are beamed live on TV channels, Mayawati hardly, if ever, gets such royal treatment.
Party strategists in the inner core of the BSP who handle her campaign say she is least bothered. "Ours is a cadre-based party and Behnji relies more on the message propagated by word of mouth rather than through the media," says a party leader monitoring the Dalit icon's campaign. "She is doing her work silently. But the results would be explosive," he remarks.
It is indeed ironical that the four-time UP chief minister who heads a national party, boasts of a certain stature in national politics and is also seen as prime ministerial material in the event of a hung parliament, does not get due space in newsprint or airtime on news channels.
Senior party leader Satish Chandra Mishra blames it on "discrimination". He told dna: "We neither have the hundreds and thousands of crores that the other parties are spending on media campaigns, nor are we interested in projecting ourselves in the media. The voter is very intelligent and we know through experience that elections are not fought through the media." He also points out that the media has limited reach, particularly TV channels. "They are limited to urban areas and watched by those who don't even vote," he quips.
Meanwhile, Mayawati continues on her campaign trail, regardless. While other leaders address up to half a dozen rallies every day, her routine is limited to two per day. She has already addressed about 40 rallies in several states besides Uttar Pradesh, including Rajasthan, Madhya Pradesh, J&K, Odisha, Bihar, Jharkhand, West Bengal, Delhi and Haryana.
The points she makes at her rallies are neatly cut out. While in other states she targets BJP and Congress, in UP, she fires her choicest salvos at the ruling Samajwadi Party (SP). In UP, her focus is on ensuring that the vote of the Muslims, reportedly disenchanted with the SP, is not divided. For this, she launches a severe attack on Modi while mincing no words against the SP and the Congress, too.
At a rally on Monday in west UP, which is heavily populated with Muslims, Mayawati said, "The country will see communal flare-ups if Modi comes to power. Dalits and Muslims should vote for the BSP and not the Congress or the SP, as both of them are as communal and dangerous as the saffron brigade." Earlier, in Muzaffarnagar, which was the epicenter of horrific riots last year, she appealed to Muslims not to divide their vote. "The BSP is the only political force which can defeat the BJP in UP," she said.
Political analyst Pradeep Kapoor says with the Brahmins and Muslims in UP adding to her strong Dalit votebank, Mayawati could "shock" her rivals with a tally much higher than the 20 BSP scored in 2009. That, in fact, is the feeling among several keen political watchers here, the lack of media hype notwithstanding.