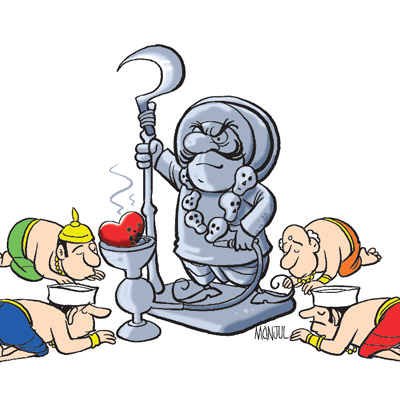 Cutting across party affiliations, politicians in Haryana are making a beeline for the infamous Khap panchayats to seek blessing ahead of the Lok Sabha polls.
Khaps have repeatedly earned the wrath of courts in the country for their extra-judicial and Talibani diktats against young couples, but these have hardly had any effect on their political clout.
Politicians do not want to ignore them as they know that can cost them precious votes as visible from a recent statement of Haryana chief minister Bhupinder Singh Hooda, who hallowed them in the NGO tunic.
Khap leaders admit that politicians in the state have been approaching them for votes, but say that they are a completely apolitical organisation. The truth, however, is that Khap leaders often send unofficial messages to the locals to support one particular leader/party or the other.
Sarv Khap Panchayat leader Om Prakash Mann said Khaps were "social-cultural organisations which also help in handling and solving law and order issues at the community level itself rather than taking everything to courts." "Khaps do not pass any official resolutions to support any party or leader in elections. They are completely apolitical organisations," Mann told dna. No political force in Haryana can ignore the influence of Khaps, he added, admitting that "often an unofficial message goes down from the top leadership for supporting or not supporting a particular party or leader."
Khaps have a history dating back to 1,400 years or so—from the time of the Jat kings in northern India. Across Rajasthan, UP, Haryana and Delhi there are over 600 Khaps, and of those, around 106 are in Haryana alone. Khaps are nothing but a cluster of villages and though they involve people of all castes, sometimes they are based on castes. For example, several of the 106 Khaps in Haryana are only of Jats.
Mann, who is also the Haryana president of the All India Jat Mahasabha, said: "Jats have officially decided to support the Congress party in the 2014 elections because the UPA government fulfilled their decades-old demand for being included in the OBC category, something that would ensure the community reservation in jobs and education."
Jats form nearly 30% of the total population of Haryana and thus are a key constituent of the voters.
An easy way Khap leaders adopt to send signal to the locals for voting in favour of a particular party or leader is by appearing with those political leaders in rallies or during campaigning.
Another Khap leader, Vijender Singh Berla, who represents 25 villages of Sheoren (a Jat gotra), said: "Khaps do not indulge in political activities, but we do exert pressure on politicians to get work done in our areas."
Interestingly, this time around, Berla has been seen several times with Indian National Lok Dal candidate in the Bhiwani constituency. Both Mann and Berla admitted that Khaps had political clout. And politicians too admit that they go to these leaders for seeking their blessing.
Kamal Pradhan, the spokesperson of Kuldeep Bishnoi's Haryana Janhit Congress, told dna: "Khaps do not officially come out in support or against any political outfit, but they do certainly send message to their constituents for voting in favour or against someone."