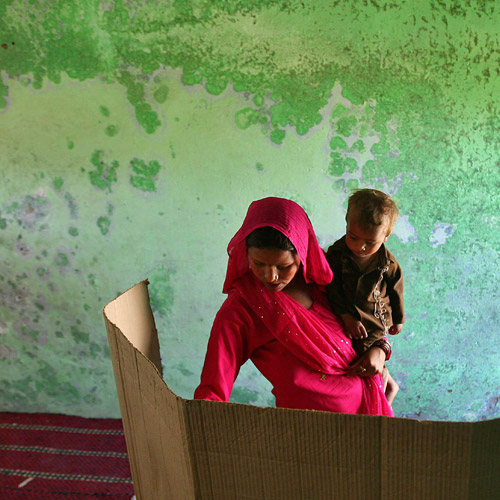 (Disclaimer: Election Commission's final count for Bangalore turnout was 54%. This piece was filled immediately after the election concluded, so has been updated accordingly)
India has a strange pattern of voter-turnouts and Lok Sabha elections of 2014 are no different either.
While a well developed metropolitan city like Bangalore saw a voter turnout of just 12% till noon, other states such as Manipur and Jharkhand had a strong voter turn-out with 71% (5 pm) and 55%. (3 pm)
This was ironic as many Maoist attacks and militant problems were reported from Jharkhand and Manipur while Bangalore has no issues as such.
In Chhattisgarh's three Lok Sabha constituencies 40% voting took place till 2 pm Thursday, marking the second phase of polling in the state.
40% voters in 11 Lok Sabha constituencies in Uttar Pradesh had cast their votes till 2pm while a similar number was recorded in the 10 Lok Sabha constituencies in Madhya Pradesh.
Madhya Pradesh had a total voter turn-out of 52% which is much higher than Bangalore's 35% turn-out. till 5 pm in the evening.
Also read: Despite Maoist violence, polling begins for six seats in Jharkhand
Many voters turned out in huge numbers to exercise their right to vote from 121 constituencies in 12 states and pushed the voting percentage beyond 40 by afternoon in the fifth – and largest – phase of the Lok Sabha elections on Thursday.
This development comes close on heels of Nandan Nilekani contesting elections and thereby bifurcating voters and Nilekani's Bangalore is a much watched out constituency.
A total of 30% of 16.61 crore cast their vote till noon in this phase.
Nandan Nilekani from Congress, Maneka Gandhi, former Prime Minister HD Deve Gowda, Union Minister Veerappa Moily and Srikant Jena, Supriya Sule and Lalu Prasad's eldest daughter Misa Bharti figure among the 1,769 candidates in the fifth of the nine-phased elections.
Though the overall voter turnout in Karnataka was 61% as per EC's release, Bangalore performed badly at 35%, which was later updated to 50%.
This was in contrast to other states like Jharkhand and Manipur which had cases of Maoist attacks and violence erupting at various poll booth stations.
People turned out to vote amidst Maoist violence in Jharkhand where rebels injured a CRPF jawan, blew up a railway track and exploded ten bombs.
Polling in Bangalore went bad when AAP volunteers claimed they were assaulted in Mayaganhalli, Ram Nagar police station. The alleged attack was reportedly carried out by revenue minister DK Shivakumar's men.
The AAP volunteers were rushed to the hospital. They claim that they were thrashed after they tried to stop Shivakumar's men from openly distributing money.
Bangalore has seen a voter turnout of 12% till 10am and the final counting ended at 50%.
Many people criticised this turn-out as Bangalore always has recorded bad voter turn-out despite being a central hub of activities.
West Bengal recorded a voter turnout of 80% by evening 5 pm.
Odisha recorded at least 51% polling till 3 pm in the second and final phase of polling for 11 Lok Sabha and 77 assembly seats.
According to Election Commission's count, 44.09% of the voters had votes cast their votes in 7 Bihar constituencies till 3 pm.
An average of 50% of the total 3.48 crore electors cast their votes in the 20 out of 25 seats till 3 pm in Rajasthan.
Below are some tweets:
Dismal voter turnout in #Bangalore. Don't fret, fume, and criticise the government if you can't even cast your vote

— Chintan Bhaidani (@chintanbhaidani) April 17, 2014
Absolutely ridiculous to see figures like 35% voter turnout in a big city.. Can this be called an educated crowd? Such a shame! #Bangalore

— Sridhar Venkatesh (@sridharv049) April 17, 2014
Shame Bangalore... Even Naxal infested areas recorded higher voter turnout...

— Soul in Exile (@SoulInExile) April 17, 2014
Bangalore-South 40%, North 37% and Central 36% Low voter turnout in one of the educated city of India. Bangalorians come out, #Vote4India

— Ketan Gupta (@ketangupta07) April 17, 2014
Really expected better of an educated city like Bangalore. Just 35% voter turnout!!

— Sindrella (@Dumdeedaadum) April 17, 2014
Rural Karnataka has beaten Urban #Bangalore by good 18% in voter turnout. Hell with #democracy, we like extended #weekends. #Elections2014

— Soumitra Paul (@Spaulify) April 17, 2014
@AamAadmiParty Poor voter turnout in Bangalore, shame on silicon city people who discuss politics over every possible meeting, shame on us

— Vinayak Sanjay Urs (@sanjayurs) April 17, 2014
Shame on #Bangalore Such ridiculously low voter turnout!! You guys can vote with any government ID. Need not have voter ID. Go vote!!

— GÖÖnerAppa (@VishalBorker) April 17, 2014
Bangalore's indifference towards politics is so clearly visible through the voter turnout.

— Anisha (@Shizzlerrr) April 17, 2014
Ever wondered that probably the low voter turnout in Pune and Bangalore could be because more no.of migrants live there?

— RightArmSpinster (@LeftOverWoman) April 17, 2014
35% voter turnout at Bangalore, way lesser than turnout at MTV Roadies auditions held in Bangalore.

— Ripper (@Ace_Of_Pace) April 17, 2014
This Bangalore voter turnout would have been 100% if the polling booths were located in an Infosys office or a pub on MG Road.

— $$Jhunjhunwala/Magal (@jhunjhunwala) April 17, 2014