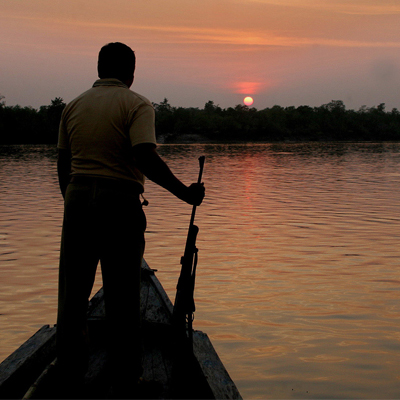 In an election being fought on issues ranging from the local to the national, voters in Sundarbans are urging candidates to focus on the menace of global warming which is threatening to swallow up these islands, famous for being home to the Royal Bengal tiger.
More than 40 lakh voters live on the group of 54 islands of the Sundarbans archipelago for whom climate change and its alarming impact form the main concern. The Sundarbans region has three Lok Sabha constituencies under it- Mathurapur, Jaynagar, Basirhat- all of which go to polls tomorrow in the last phase of voting.
In this delta region hard hit by increasing floods, storms, salinity and erosion, there are lakhs of farmers and fishermen who want their next MPs to fight against climate change, which is responsible for eating away their land and livelihoods.
People here complain that the river has widened so much over the last few decades that they lost their agricultural land and were also forced to relocate their homes. "Floods are common here. Embankments are breached regularly in many parts, flooding houses and paddy fields.
Climate change is responsible for all this as sea levels are rising. We are the first victims," says Sahadeb Guru, a farmer in Pathar Pratima block. At least four islands have already been washed away while, in the last 30 years, approximately 7,000 people have been displaced as a result of erosion, experts say. During campaigning, Lok Sabha candidates are promising they will tackle the challenge of climate change by means of adaptation and mitigation strategies.
"Construction of proper embankments which can save the people from floods is the main poll issue here. Climate change is responsible for the woes of the people and it is not so easy to handle that," says Rinku Naskar, CPI(M) candidate for the Mathurapur (SC) seat. Sitting Mathurapur MP Chaudhury Mohan Jatua is the Trinamool Congress candidate while BJP has put up Tapan Naskar, a private school teacher, as its nominee in Sunderbans.
Studies by the School of Oceanography Studies at Jadavpur University found that the total land area of Sundarbans had shrunk to 6,358.048 sq.km in 2009 from 6,402.090 sq.km in 2001, a net land loss of 44.042 sq.km. The islands have on an average loss 5.50 sq.km of territory per year.
To protect the islanders from the cycle of twice-a-day tidal floods and cyclonic storm surges, West Bengal government has already started an embankment reconstruction project to fence about 3,500-km of boundary at a cost of Rs 5,032 crore.
But the slow construction work and the reluctance of farmers to part with their land for making embankments have come to be major hurdles to the project. In the Jaynagar (SC) constituency, the second of the three seats in the Sundarbans region, sitting MP Tarun Mandal is fighting on a Socialist Unity Centre of India (Communist) ticket. He is facing, among others, Pratima Mondal of TMC and Arnab Roy of Congress.
The increasing floods and cyclones are also exposing locals to great health risks. Following floods, sources of drinking water get contaminated and fields become breeding grounds for parasites and transmission of various vector- borne diseases.
The third Lok Sabha seat in Sunderbans, Basirhat, has TMC's Idris Ali taking on CPI's Nurul Huda and BJP's Samik Bhattacharya. The sitting MP, Nurul Islam, has been fielded by TMC from Jangipur.