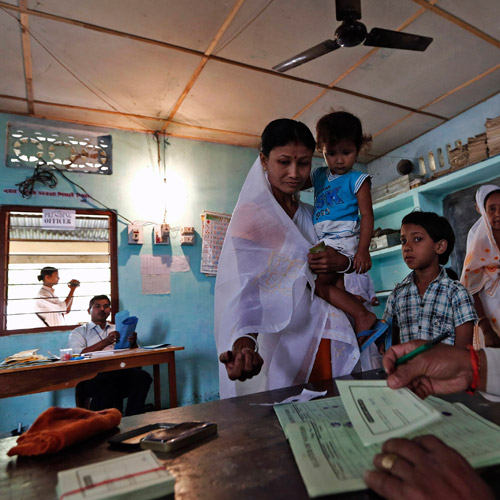 'Rongali Bihu' (Spring festival) seems to have come early to Assam with enthusiastic youth and women voters flocking to the booths in a carnival mood to cast their votes in the first phase of polling in five parliamentary constituencies today.
With Bihu round the corner, the pleasant spring weather also contributed to the festive spirit in the Upper Assam constituencies. Tea garden workers, mostly women, in Dibrugarh, Jorhat, Kaliabor and Tezpur in Upper Assam, dressed in their colourful best, were seen queueing outside the booths since 6 am, an hour before polling began. ''We want to vote early and become free for the day as the government has declared a holiday today. We want to relax and enjoy after exercising our franchise'', said tea worker Pratima Gowala of Moran in Dibrugarh district.
In urban areas, too, women were seen in sizeable numbers outside the polling booths as they waited patiently to exercise their franchise. ''We have decided not to delay in casting our votes.
We want to be a part of the democratic process and prove the importance of our vote'', housewife Sunita Hazarika of Tezpur town said.
Youths, including 6.52 lakh first time voters in the state comprising 3.5 per cent of the total electorate, also flocked to the booths in hordes though later in the day. ''I am very excited to cast my vote for the first time. I am aware that my vote is valuable and will not let it go waste'', 19-year old Diganta Gogoi, a first year student of Jorhat Engineering College said.
Elderly people, assisted by relatives, were also seen outside the booths with many making way for them to cast their vote early so that they do not have to wait in queues for their turn.
90-year old Radhika Mohan Gohain, who has always cast his vote since the first General Elections in 1952, was taken to the polling booth by his nephew in Tinsukia town. ''As long as I am alive and in my senses, I will continue to vote. I read the newspapers regularly and am aware of the latest political developments in the country. I will exercise my vote according to my conscience'', he said.
In Majuli, the world's largest river island, which is a Scheduled Tribe constituency under Lakhimpur constituency, both women and men dressed in their traditional attires came out to vote. ''The very existence of the island is at stake as unabated erosion has shrunk its area. Our vote is important to ensure that whoever comes to power cannot ignore the island but must take measures to mitigate its various problems'', school teacher Champa Pegu said.
A festive atmosphere prevailed in the island, also a repository of Vaishnav culture, with voters of various sattras (Vaishnav monasteries) seen outside polling booths.
Celebrity voters like Chief Minister Tarun Gogoi and his wife in Jorhat, former Union Minister Bijoy Krishna Handique also in Jorhat, and Union Ministers Ranee Narah and Paban Singh Ghatowar in Lakhimpur and Dibrugarh respectively were among those who cast their vote.
Massive campaign by the respective district administrations to create awareness among voters to exercise their franchise has been successful in the first phase with a large turnout of electorate in the five constituencies, an election department official said here.