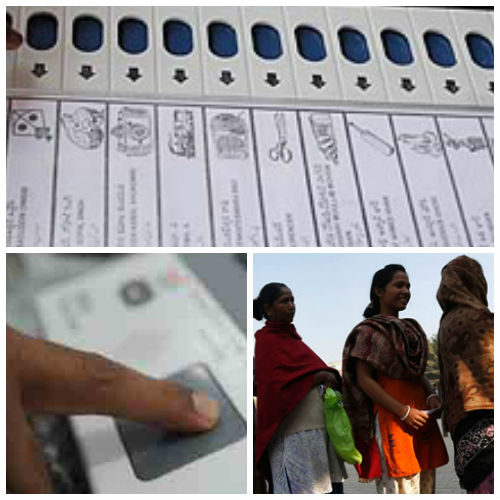 As Lok Sabha elections progress, four states including Assam, Goa, Sikkim and Tripura will go to polls on Saturday in the the fourth phase, which will cover seven constituencies in four states. More than 50 lakh voters will decide the fate of 74 candidates.
Elections will start at 7 am and will go on till 6 pm in the evening.
There is an exception for Tripura as the polling will close by 5 pm.
For complete coverage, click here: Lok Sabha Elections 2014
ASSAM
*In 2009, Congress's Lalit Mohan Suklabaidya defeated AUDF's Rajesh Mallah by 7,920 votes
*Silchar: In 2009, BJP's Kabindra Purkayastha defeated AUDF's Badruddin Ajmal by 41,470 votes
*In 2009, Congress's Biren Singh Engti defeated Autonomous State Demand Committee's Elwin Teron by 74,548 votes. The Congress won two out of the three seats in Assam going to the election on April 12
*While Karimganj and Autonomous District is held by the Congress in the outgoing Lok Sabha, BJP had won Silchar in 2009 general elections.
*Karimganj MP Lalit Mohan Suklabaidya (Congress), Krishan Das of BJP (Karimganj), Silchar MP Kabindra Purkayastha (BJP), legislator Sushmita Dev of Congress (Silchar), sitting Diphu MP Biren Singh Engti (Congress) and Joy Ram Engleng of BJP (Diphu)are among the aspirants seeking entry into the House of the People.
*The Congress and BJP have fielded candidates in all three seats while the AGP, AIUDF and AAP, among others, have put up candidates in two seats.
*Karimganj is the largest constituency electorate-wise with 11,63,871 voters, while Autonomous District is the smallest with 70,12,268 voters.
*As many as four general observers have been deployed for the second phase, three expenses observers and one police observer.
*Approximately, 14,792 polling staff will be deployed in 3698 polling stations.
GOA
*In 2009, BJP's Shripad Yesso Naik defeated NCP's Jitendra Raghuraj Deshprabhu by 6,353 votes
*In 2009, Congress's Cosme Francisco Caitano Sardinha defeated BJP's Advocate Narendra Keshav Sawaikar by 12,516 votes
*Goa, with two seats, will witness a single phased poll where 19 candidates are in fray for the North and South Goa constituencies, including those of Congress, BJP, CPI and other regional parties and independents.
*Prominent candidates from North Goa include Ravi Naik (Congress), BJP's sitting MP Shripad Naik and Aam Aadmi party's Dattaram Desai. From the South Goa seat, Congress' Aleixo Reginaldo Lourenco, BJP's Narendra Sawaikar and AAP's Swati Kerkar are among the prominent contenders.
*South Goa's sitting MP Francisco Sardinha (Congress) has not been given a ticket this time.
*In Goa, after every one male voter, two women voters would be allowed to exercise their franchise.
*This has been done for the first time keeping in mind that women need to come out in large number to increase the voting percentage in the state.
SIKKIM
*In 2009, Sikkim Democratic Front's Prem Das Rai defeated Congres's Kharananda Upreti by 84,868 votes
TRIPURA
*In 2009, CPI(M)'s Baju Ban Riyan defeated Congress's Diba Chandra Hrangkhawl by 2,95,581 votes
*Tripura also goes to poll on Saturday to elect its second representative to the Lok Sabha from the Tripura East (ST) constituency.
*A multi-cornered contest will take place in the constituency among the CPI(M), Congress, Trinamool Congress and BJP.
*There are 12 candidates in the fray including CPI(M)'s Jitendra Chowdhury, who is the state industries minister, Congress' Sachitra Debbarma, a prominent educationist, BJP's Parkshit Debbarma, an ex-armyman, and Trinamool Congress leader Bhriguram Reang.
What to expect:
The three phases of Lok Sabha election have so far seen impressive turnout. The election to elect the 16th Lok Sabha is being conducted in nine phase from April 7 to May 12. The counting will take place on May 16.
Also read: Lok Sabha elections 2014: A quick glance through polling schedule
For more detailed reports of earlier phases, watch the videos below:
A roundup of the critical third phase of elections
General Elections 2014: Key constituencies
With inputs from agencies