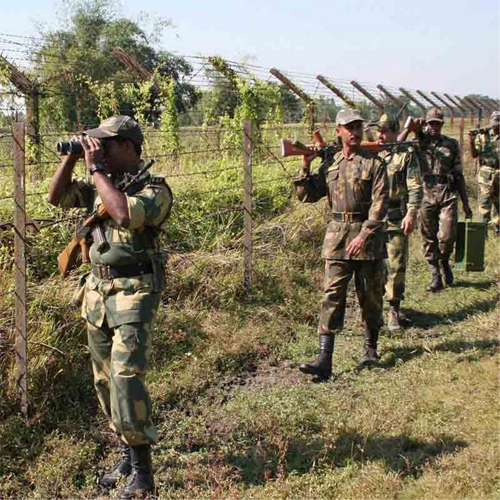 With polling in border states to be held in next four phases, the government has directed the Border Security Force (BSF) and the Shahastra Seema Bal (SSB) to intensify vigil along the boundaries with Pakistan, Bangladesh and Nepal to check possible trans-border crime and smuggling of narcotics and fake Indian currency notes.
The Home Ministry has issued a directive asking frontier guarding forces Border Security Force and Sashastra Seema Bal to keep strict vigil along the Indo-Pak, Indo-Bangla and Indo-Nepal borders to ensure peace and to check anti-social activities ahead of Lok Sabha elections from April 24.
'Order has been issued to check trans-border crimes, smuggling of narcotics, fake Indian currency notes through effective domination of the border by carrying out round the clock surveillance,' a Home Ministry official said. The riverine segments of the border have to be patrolled through enhanced deployment of watercraft, speed boats and floating BOP, the official said.
Over 170 Lok Sabha constituencies in Punjab, Uttar Pradesh, Bihar, Jammu and Kashmir, West Bengal, Assam and Gujarat – the states which share an international border with either Pakistan, Nepal and Bangladesh – will go to polls in the last four phases.
India shares a 4,096-km border with Bangladesh, 3,323-km border (including LoC) with Pakistan, and 1,751-km border with Nepal.
According to Home Ministry statistics, along the Indo-Pak border in 2011, fake currency notes of Rs 4.4 lakh face value, 75-kg narcotics and 15 arms were seized. In 2012, fake notes of Rs 4.6 lakh face value, 290-kg narcotics and 23 arms were seized while last year, fake notes of Rs 5.2 lakh face value, 360-kg narcotics and 37 arms were recovered.
Along the Indo-Bangla border, fake currency notes of Rs 4.4 lakh face value, 8,598-kg narcotics and 45 arms were seized in 2011 while in 2012, the seized items were fake notes of Rs 5.5 face value, 2,863-kg narcotics and 34 arms. Last year, security forces seized fake notes of Rs 5.8 lakh face value, 4,690-kg narcotics and 47 arms.
In 2011, along the Indo-Nepal border, 12,405-kg narcotics was seized and 1,104 people were arrested. In 2012, 8,448-kg narcotics was seized and 410 people arrested while 9,640-kg narcotics was seized and 567 people arrested last year.