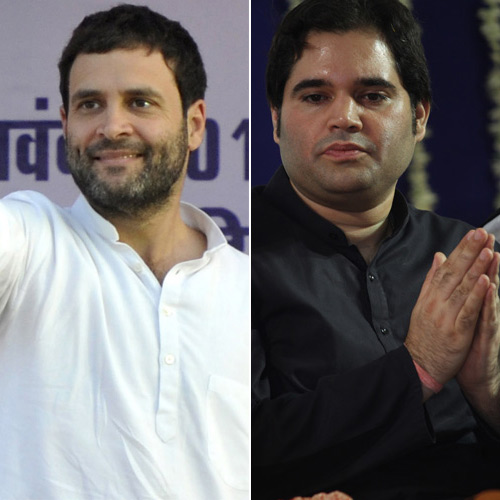 The country's two top political families – one led by Congress president Sonia Gandhi and the other by BJP MP Menaka Gandhi – are not the only families that symbolise a clash of political ideologies, leading to warring factions up in arms against each other in the electoral arena. In the upcoming Lok Sabha elections, brother is pitted against sister, wife against husband, and so on and so forth. A true democracy!
In Bihar, a once loving brother, Sadhu Yadav, who fell apart during the 2009 Lok Sabha elections, is out in the open to spoil his sister Rabri Devi's chances of getting into the Lok Sabha for the first time. He is contesting as an independent candidate from Saran in Bihar, where Rabri Devi will also woo the voters for their precious ballot.
Another brother-sister duo, Shazia Ilmi and Aijaz Ilmi have not gone to the extreme of contesting against each other, but they represent diverse political ideologies in the family. Aijaz Ilmi recently joined the BJP.
In an another extreme case, former Odisha chief minister and Congress's Giridhar Gamang's wife Hema Gamang has joined the Biju Janata Dal (BJD) and will be campaigning against him. While Giridhar Gamang is contesting from the Koraput Lok Sabha constituency, Hema Gamag is contesting from the Laxmipur assembly seat – a part of Koraput Lok Sabha constituency.
This, in fact, is an ironical situation for the 71-year-old Gamang as in 2009, the local unit had turned against him as went out in open fetching tickets for his family members and close aides. In 2009, he procured seat for his son Sisir and private secretary K Nagraj Dora along with his wife. All of them lost to the BJD rivals. Party functionaries who were angry as Gamang bagged tickets for his family and aides voted against him in the election.
In West Bengal also, there are a plenty of such cases in which one member of the family is pitted against the other, or is contesting from different parties. In an example similar to Ilmi brother-sister, in Kolkata,
Tathagata Roy of BJP and his brother Trinamool's Sougata Roy will contest elections from two different seats. Sitting Congress MP from Raigunj Lok Sabha seat, Deepa Dasmunshi will contest against her brother-in-law Satyaranjan Dasmunshi – a Trinamool Congress leader.
The ramifications of the situation, meanwhile, are really large in proportions especially for people like Rabri Devi, on whose shoulder rests the future of the Rashtriya Janata Dal (RJD), as party supremo Lalu Prasad will remain busy with the cases related to fodder scam. That's precisely the reason why he passed on Saran – the seat he vacated post his conviction – to his wife. A senior RJD source told dna, "We expect some of the Yadav votes to get split in the constituency. However, the key message that both Rabri and Misa Bharti will give to the voters is that Lalu has been victimised." BJP's Rajiv Pratap Rudy is also contesting from Saran.
At the core of Sadhu's grouse is Lalu promoting his sons. In fact, the process of alienation began way back in 2004, when Lalu Prasad took over as railway minister in the UPA government. Ministry sources said Lalu would always ask officials to keep his over enthusiastic relatives at bay. During the 2009 Lok Sabha election, Sadhu contested from Paschim Champaram seat and lost. He again lost in the 2010 assembly elections. In August last year, Sadhu met Gujarat chief minister Narendra Modi. For Lalu-Rabri now, Sadhu is a 'dushman'.
Lalu-Rabri are not the only ones fighting a family battle in the political battleground in Bihar. Lok Sabha speaker Meira Kumar, who will contest on a Congress ticket from Sasaram will have to face her niece Medhavi Kirti. Kirti will contest on the Bahujan Samaj Party (BSP) ticket. She is the daughter Meira Kumar's brother, the late Suresh Ram.
In Rajasthan, Congress has given ticket to minister of state for finance Namo Narain Meena from Dausa. This has put in a direct fight with his brother Harish Meena, who is fighting on the BJP ticket.