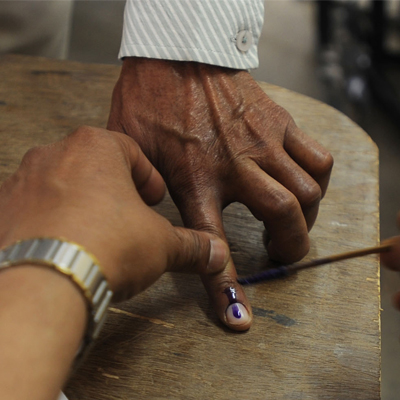 Voters were seen lining up at polling stations as more than a quarter of the electorate in Jharkhand voted on Thursdayin the first four hours for the six Lok Sabha seats from the state.
Officials said 27.0% had voted till 11 a.m., and added that Ranchi witnessed 26% polling, Jamshedpur 28%, Giridih 29% and Khuti 21%.
Polling for six Lok Sabha seats in Jharkhand began as scheduled at 7 am on Thursday and will close at 4 p.m. Maoist guerrillas have called for a poll boycott.
The six seats for which the polling is taking place are Ranchi, Jamshedpur, Chaibasa, Khuti, Giridih and Hazaribagh. Maoist guerrillas have significant presence in all the six constituencies.
A total of 8,525,179 voters will decide the political fate of 106 candidates in these six constituencies.
"The new electors in the age group of 18-19 years are 388,301. The voting will take place at 10,177 polling stations. Of these, 2,779 are highly sensitive, 3,070 are sensitive," an Election Commission official told IANS.
The commission has appointed 1,946 micro observers to monitor the polling.
Of the total number of the polling booths, 763 have been covered with video cameras, 1,194 with still cameras and 600 through webcasting.
Around 45,000 security personnel drawn from para-military forces, state police, and home guards have been deployed.
Six choppers are being used during the election, of which two have been deployed for air surveillance.
The fate of seven legislators, former minister and Congress Ranchi MP Subodh Kanat Sahay, Deputy speaker of Lok Sabha and BJP sitting MP Karia Munda, senior BJP leader Yashwant Sinha's son Jayant Sinha will be decided.
In the 2009 polls, the Congress won in Ranchi and Independent candidate and former chief minister Madhu Koda won the Chaibasa seat. The BJP bagged the remaining four seats.
The other key candidates are former deputy chief minister and All Jharkhand Students Union president Sudesh Mahto, and former IPS official Amitabh Chaudhary, who is the president of Jharkhand State Cricket Association. Both are contesting from Ranchi.