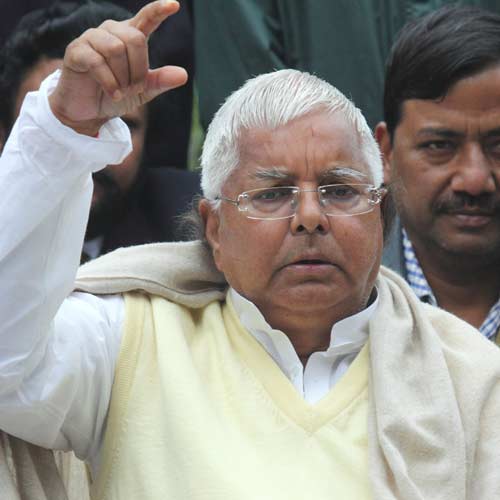 While it early to write an epitaph of Bihar chief minister Nitish Kumar, a visible trend one can gather travelling across Bihar is that his arch rival the RJD chief Lalu Prasad Yadav is might be back with a bang. In the midst of Modi factor, Lalu has given hope to his ally the Congress as well.
But the expected outcome will raise an important question in Bihar, whether caste or community is more powerful than economic growth and development.
Neither the 12% growth rate nor the network of roads to towns and villages or the improved electricity and the law and order situation is coming to the rescue of Kumar, even though people still remember Lalu's regime as "nightmare".
Sanjay Jha, a senior fellow at the Patna-based think tank AN Sinha Institute tells dna that despite all good work, the absence of a caste combination is working against Nitish. He earlier had an alliance with the BJP and thus had a solid support of upper caste and non-Yadav voters. Now after parting ways with the BJP, only non-Yadavs may support him. Even Muslims may vote in Lalu's favour.
"The pitfalls of this elections is that political parties henceforth will bank more on caste combinations rather focus on development," he said. But, Jha is hopeful that Nitish will return with a bang during assembly elections, as there is no leader of his stature in RJD or BJP.
Admitting that emergence of Lalu in 1989 was a turning point as he gave voice to the oppressed, Ranjit Nirguni, member of Zilla Parishad (District Council) of Samastipur said he had no vision thereafter. He (Lalu) had promised to undertake land reforms. But after taking over, he found 230 MLAs out of a total of 324 belonging to landlord communities. "He ended rule of upper castes, but did not do much for development thereafter," he said.
Nirguni believes that migration largely are is not due due to economics but to escape humiliation and break caste barriers.
Social scientist Sachidanand Singh says people in Bihar had given Lalu a chance to lead them but he first reduced himself to become a leader of his caste and then confined himself to lead his own family. Though, Nitish did provide security and development, there is no end to aspirations.
Dharminder Kumar at the Dharbhanga-based Mithila University disagrees that Nitish had focused only on development. He was also product of a similar social engineering, combining upper caste, backward (other than Yadavs). But his severing ties with the NDA has distanced upper castes from him. He was trying to address the minority block, but they have ditched him.
An elderly Madhubani-based socialist leader Siya Ram Yadav recalls that in 1989 Sharad Yadav had convinced then deputy prime minister Devi Lal to back Lalu rather on Dalit leader Ram Sunder Das. "They found Lalu easily manageable and at a meeting Sharad told Devi Lal, they can use Lalu the way they like," recalls elderly Yadav, who has held key position in Janata Party and later in Janata Dal. According to him the downfall of Nitish lies in in his over dependence on bureaucracy rather on political workers.
But principal of Muzaffarpur-based MP Sinha College, Abuzar Kamaluddin believes over confidence and disregard to caste sensitive has let the BJP down in the state.
"They will perform but not to the extent we had expected. In North Bihar they have not fielded a single Bhoomihar and had not taken into view the Muslim-Yadav consolidation," he said. The principal laments that Muslims still do not take empowerment into consideration while voting. "The only factor that works in Lalu's favour is that except Gopalganj there were no major communal riots," the principal added.