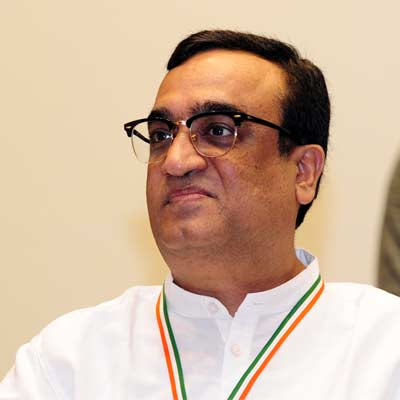 With exit polls predicting a victory for BJP-led National Democratic Alliance, Congress leader Ajay Maken on Friday said his party will fare better than what has been predicted.
"I am hopeful that Congress will get good seats. I am very confident," the AICC General Secratary said on the eve of election results.
"No one would have campaigned like BJP has done spending huge amounts. I feel we could have communicated our achievements in much better way," he added.
Counting of votes to elect representatives to the 16th Lok Sabha and four State Assemblies -- Andhra Pradesh, Odisha, Arunachal Pradesh and Sikkim -- began at 8 am this morning amid tight security. The exit polls have projected that the BJP and its allies would touch the half-way mark in the 543-member Lok Sabha. Most polls show the incumbent UPA regime getting between 101 and 148 seats.
The BJP's biggest gains are in Uttar Pradesh, where at least two surveys have predicted the party to win 54 seats. Similarly in Bihar, the exit poll results have dismissed any chance of the RJD's resurgence, giving a clear lead to the NDA.
The surveys also suggested the BJP winning more seats than the Congress in Odisha, where Naveen Patnaik's BJD has been projected to win a majority of the seats.
"The way the exit polls and opinion polls of all channels are conducted, the Congress party rubbishes them. Tomorrow this will be witnessed by the whole country. Even now we can see that all the exit polls are different from each other. There is a sure probability that the exit polls will be wrong," he added.
On the meeting of party spokespersons and media panelists, Maken said, "We had a meeting with Congress spokespersons and media panelists. The roster duty for tomorrow's elections was discussed. We have told them that according to the traditions of the Congress party we should make our message clear to people and ensure that it reaches them."
A majority of 272 seats in parliament is needed to form a government, although that is often achieved with outside support from regional parties.
India's staggered voting was spread over five weeks to reach the country's 815 million voters around its varied terrain. With exit polls predicting a victory for BJP-led National Democratic Alliance, Congress leaders on Friday sought to put a brave face.
Congress leaders Ajay Maken and Meem Afzal told reporters that exit polls will be proved wrong.
Earlier this week, Congress general secretary Digvijaya Singh cautioned the media against writing off the party and asserted it would bounce back as in the past. Trashing exit polls as not believable, he said they would be proved wrong as in the 2004 and 2009 elections.
Exit poll surveys by various watchdogs and news channels have indicated that the BJP-led National Democratic Alliance would get a majority in the Lok Sabha and form the next government at the centre under its prime ministerial candidate Narendra Modi.
With the counting underway, political watchdogs wait with bated breaths to see if the exit polls prove to be right.