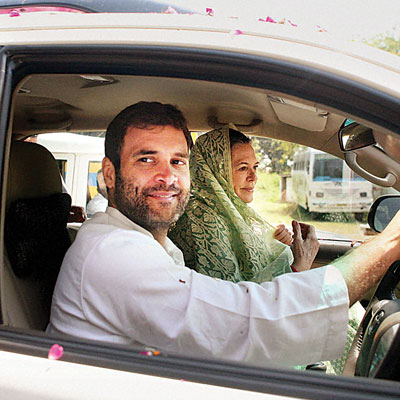 Contrary to earlier incidents where ticket distribution during general elections led to a lot of dissent in the Congress party, the process was by and large a smooth affair this time.
The angry-workers-protesting scenes so far a regular at the Congress headquarters have now shifted to the rival BJP camp where even top leaders are sulking over distribution of tickets.
A senior member of party's Central Election Committee (CEC), the highest body to finalise candidates, told dna that so far they have not received a single complaint of either ignoring a genuine candidate, or money changing hands in the selection process at lower level where names are recommended.
So far the party has announced 417 candidates, and more 100 are yet to be announced, which includes a candidate in Varanasi against BJP's prime ministerial candidate Narendra Modi. Congress has given tickets to 110 new faces this time. Out of them 40 are below 35.
In 2009, number of Congress workers like Rizwan Arshad, Acharya Pramod Krishnam, Rajiv Satav, Pankaj Agarwal, Sagar Megha and Hidayat Patel among others had sought tickets but didn't get. Many of them blamed money power and considerations of central and state leaders for them not getting the tickets.
Congress not returning to power this time is seen as one of the reasons for not many leaders making a beeline for tickets, says analysts. They say senior leaders like Capt Amarinder Singh, Ambika Soni and Raj Babbar were sent to Amritsar, Anandpur and Ghaziabad respectively because no one was claiming tickets there.
Significantly, in 2009 Soni had expressed a wish to contest from Anandpur but was denied a ticket. Even actor Nagma had asked for a ticket from New Delhi and Mumbai in 2009, but succeeded to get one only in 2014.
But Congress leaders say that even in 2004 and 2009 many did not expect them to form a government at the Centre. But there was a huge rush for tickets. For them the reason of not many people thronging the AICC headquarters for tickets is the structural changes incorporated in the ticket distribution process by Congress vice-president Rahul Gandhi.
In Punjab, though a local leader Santokh Chaudhary did publicly allege that Congress was selling tickets to rajas and maharajas at the cost of party workers, he has not yet filed a formal complaint to party leaders.
Among the structural changes Rahul introduced in the party was that the list would be considered by the CEC only after the clearance from the state leaders to clip powers of general secretaries. Some years ago, senior leader and current governor of Rajasthan Margaret Alva had alleged use of money power over ticket distribution in the power.
Only seat so far complaints are pouring in are from Tonk-Sawai Madhopur, where Congress has parachuted Mohamamd Azharuddin replacing Nambo Narain Meena. Most complaints are pouring in from local Muslim leaders who have vowed to ensure Azhar's defeat. The party's only solace is that the BJP's nominee form this seat Sukhbir Singh Jaunpuria is caught in similar problem. He hails from Delhi and has his real estate and liquor business in Rajasthan.