Voters want to give BJP's 80 year old Khanduri a farewell win.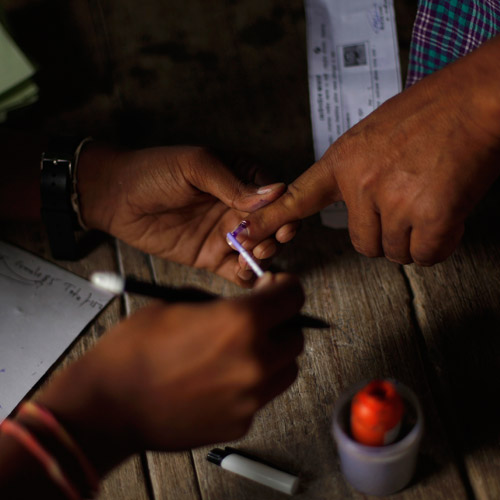 In this hilly constituency of Uttarakhand where British defeated the marauding Gurkhas in the 19th century to establish their supremacy, it's a battle between two candidates who have a military touch to them, one an academic and the other an ailing 80 year old soldier.
Congress candidate Harak Singh Rawat, who once taught military science in Garhwal University and is a cabinet minister in Uttarakhand government is facing a very stiff challenge from BJP's former chief minister Maj General(retd) Bhuvan Chandra Khanduri.
Rawat is on a sticky wicket because of anti-incumbency against the Congress which replaced the forme chief minister Vijay Bahuguna rather late. Harish Rawat, who replaced him has managed to get the fight back into the cadre. But the task is still very tough.
Political observers like Prof MM Semwal concede that from an absolutely hopeless position the Congress has recaptured a lot of lost ground because of the quick work done by new chief minister Harish Rawat. But it is probably too little too late.
Congress's political fortunes which look resurgent in Haridwar takes a sharp dip beyond Rishikesh. A journey along a raging Ganga - from Rishikesh to Devprayag to Pauri and beyond- bears a testimony to this. BJP flags fly flutter everywhere. It could as well be flags of anger.
In Shivpuri, which was a fast growing rafting destination before the calamity, no one is ready to stand up for the Congress.
"You can see the condition of business. The Congress has failed to bring back the tourists after the calamity. Very few are ready to come here for rafting, " says Govind Singh Rana, an ex-serviceman who ferries people from Rishikesh to Shivpuri in his jeep.
The story is the same in other villages also. In Sabdhaar Khal – a block of 32 villages dominated by Thakurs or Rajputs to which Harak Singh Rawat belongs, voters reflect similar feelings. Despite being a Brahmin, Khanduri enjoys sympathy here. "Khanduriji was ditched by Ramesh Pokhriyal 'Nishank' in last elections. An honest army person like him deserves better," says Dhanveer Singh Chauhan, a village headman and Congress supporter.
In Rudraprayag that bore the brunt of flash-floods, Harak Singh Rawat is fighting against anemotional tsunami of people's anger. A few young men are wearing the Aam Aadmi Party's signature white cap but don't know their candidate's name.
"They gave us this cap, why should we disrespect their feeling," says Mohan Singh Negi, playing cards with his friends.
Thakur dominated Bauvi, the biggest village of Uttarakhand that still bears the impact of devastation caused by flash floods, has few takers for Harak Singh Rawat.
Modi's role is very limited here. Many people know his name but there is no emotional or political connect. A sizeable number wants give Pauri seat as a parting gift to the ailing Khanduri.
"We did not do justice to General Saab last time. This time my vote is only for him," says Vishal Singh Kapsuri, a dhaba owner. A group of youth playing cards, half of them drunk, cry in unison – "We owe him this." Pauri has 1.69 lakh voters.