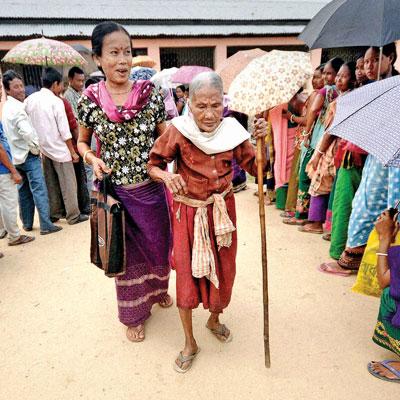 Heavy voter turnout was witnessed in five parliamentary constituencies of Assam and one seat of Tripura in the first of the nine-phase general elections on Monday. Polling passed off peacefully with no reports of any untoward incident.
In Assam, an estimated 75% voters exercised their franchise as against 83% in Tripura. Tripura has two seats and in the 2009 polls the overall voter turnout was 84.45%.
Polling in five of Assam's 14 constituencies — Tezpur, Jorhat, Dibrugarh,Lakhimpur and Kaliabor and Tripura's Tripura West seat was held. "Around 83% of 12.46 lakh voters cast their votes when reports last came in at 5 pm. However, it is likely to go up as we are awaiting reports from the interiors," said Tripura chief electoral officer Ashutosh Jindal.
Polling in the Tripura East constituency will take place on April 12. On the same day, three more constituencies in Assam Silchar, Karimganj and Diphu will also go to the polls.
The polling in Assam coincided with the foundation day of banned United Liberation Front of Assam. "Polling passed off peacefully and there were no reports of any major problem from anywhere," Assam CEO Vijayendra told dna.
The Ulfa had not issued a boycott call this time but police and security forces were vigilant. There were some technical glitches, though. "We received reports about malfunctioning of some EVMs. Altogether 42 EVMs were replaced in different polling stations," Vijayendra said.
In some booths, voting was delayed for a while owing to technical snags in EVMs. Assam's five constituencies have 64,10,883 voters. Altogether 51 candidates were in the fray. Prominent among them were Union ministers Ranee Narah and Paban Singh Ghatowar, former Union minister BK Handique, chief minister Tarun Gogoi's son Gaurav Gogoi (all from Congress) and BJP state president Sarbananda Sonowal.
The key contestants in Tripura included CPM's Shankar Prasad Dutta, Congress' Arunoday Saha, BJP's Sudhindra Dasgupta and Trinamool Congress' Ratan Chakraborty, a former state minister. Altogether 13 candidates were in the fray.
Assam chief minister Tarun Gogoi, his wife Dolly Gogoi and their son and Koliabor constituency Congress candidate Gaurav Gogoi cast their votes in Jorhat.
"There is no Modi magic, but Tarun Gogoi magic in Assam. Earlier, I had said we will win ten seats, but now I am sure the Congress will get more than that," he told reporters after casting his vote.
Speaking in the same vein, Tripura chief minister and CPI-M politburo member Manik Sarkar said, "In reality there is no Modi wave in the country. It is actually the creation of the corporate media."
The state election office web cast the election process at each of the polling stations. For the first time in the northeast region, all polling booths in the state were declared smoking-free.