Uttar Pradesh is the most populous state in India with 200 million people and is best recognized for timeless landmarks such as the Taj Mahal and the historic Hindu city of Varanasi. Situated in the northern parts of the country, this state of Uttar Pradesh has a total of 80 Lok Sabha constituencies allotted to it.
Key contenders:
*Bharatiya Janata Party (BJP)
*Rashtriya Lok Dal
*Fourth front was constituted of the Samajwadi Party (SP), Rashtriya Janata Dal (RJD) and Lok Janshakti Party (LJP).
*National Democratic Alliance (NDA)
*Indian National Congress
*Bahujan Samaj Party (BSP)
Check out: State-wise map of Election dates for Lok Sabha polls 2014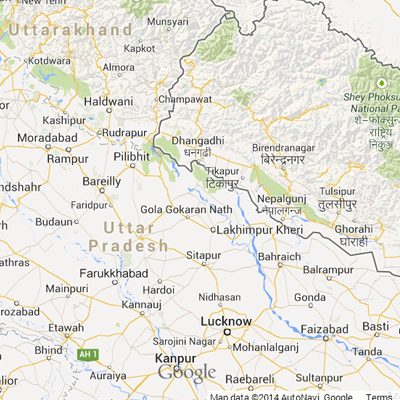 What to look out for:
*Rahul Gandhi- Kumar Vishwas- Smriti Irani battle at Amethi
*Narendra Modi-Ajay Rai-Arvind Kejriwal battle out from Varanasi seat
*Mayawati's BSP losing voters and performance in Lok Sabha elections
*Mired with numerous controversies, performance of Samajwadi party.
What to expect from Lok Sabha elections 2014?
*The incumbent Lok Sabha session of the Parliament will come to an end on 31 May 2014, giving way for a new session.
Uttar Pradesh holds a deciding position in the context of the vital general polls as it is is the largest Indian state in terms of number of seats.
*While Congress has launched its campaign in the state on the basis of RTI and the recently implemented Food Security Bill, Rahul Gandhi has emphasised the Congress's attention to laws and governance in the state, which has in turn, positively affected millions of people, especially the poor of the country.
*Campainging startegies have changed with Sonia Gandhi taking over the helm of affairs at Amethi. Even Priyanka Gandhi took to stage and targetted Narendra Modi at a rally in Rae Bareily.
Also read: Does young India deserve likes of Mulayam Singh Yadav and Narendra Modi?
*The BJP, on the other hand, in its campaigning agendas, has zeroed in on two vital aspects and targetted the ruling government.
*Corruption: including multiple scams involving Congress ministers and leaders who have been reported against in the last 10 years
*Price rise: Price rise has been a constant issue with the general sentiment of the country going against the incumbent government.
AAP. A new entrant to the political scene in the state is the nascent AAP, which has apparently expanded its hold in this northern Indian state.
Kumar Vishwas, held a rally in Rahul Gandhi's mainstay Amethi, in the early part of January 2014. In the midst of a massive gathering, a confident Vishwas asserted his plea to end dynastic politics in the state and the country, hinting at the rule of the Congress in India.
SP and BSP: The SP and BSP have forged a non-communal, non- Congress campaigning strategy in the state of Uttar Pradesh, catering to the minorities in specific.
Battles to look out for:
BJP's prime ministerial candidate Narendra Modi is contesting from Varanasi. After announcement of his candidature, AAP leader Arvind Kejriwal too jumped in the bandwagon and sought referendum from public. Post this, he announced his candidature without seeking public support. The triangular contest will see a face-off between Congress' Ajay Rai, BJP's Narendra Modi and AAP's Kejriwal.
In Amethi, Gandhi scion Rahul will face BJP's Smriti Irani and AAP'S Kumar Vishwas in a traigular contest from Congress home-turf.
Read: Narendra Modi ji, Varanasi has a few questions
Below is a preface of Lok Sabha elections for Uttar Pradesh in 2009.
The Indian general election, 2009 in Uttar Pradesh were held for 80 seats with the state going to polls across all the five phases of the general elections. The major contenders in the state were the National Democratic Alliance (NDA), Indian National Congress, Bahujan Samaj Party (BSP) and the Fourth Front. NDA consisted of the Bharatiya Janata Party (BJP) and Rashtriya Lok Dal whereas the fourth front was constituted of the Samajwadi Party (SP), Rashtriya Janata Dal (RJD) and Lok Janshakti Party (LJP).
After counting on May 16, 2009, to everyone's surprise, national parties, Indian National Congress and Bharatiya Janata Party, did extremely well, while regional parties, Samajwadi Party and Bahujan Samaj Party, did worse than expected.
The results showed a split between SP, BSP and INC, leading each of them winning a fair share of seats in the state. The campaigning by Rahul Gandhi proved to be very effective and his decision for Indian National Congress, to go alone in Uttar Pradesh, worked in their favor, since they ended up picking up 21 seats.
After the election, the success of the Bharatiya Janata Party, according UP BJP leader was, the split of the Muslim votes away from SP to Congress, due to Kalyan Singh supporting the SP and the division of Dalit votes between BSP and Congress, led to success for BJP and its ally Rashtriya Lok Dal. This split also benefited Congress, since they were able bag many seats, that are usually won by either SP or BSP.
Controversies:
*Mulayam Singh:
Samajwadi Party supremo Mulayam Singh Yadav questioned the death penalty for rape and said that they would change the law if they come to power at a rally on Thursday.
"Sometimes boys make such mistakes, should they be hanged? It's not right to give death penalty for committing rape," said Mulayam in a controversial statement.
Addressing a rally in Moradabad, the former UP chief minister said, "if the SP forms government, they will change the law of giving death sentence to the rape accused".
Read: Mulayam Singh irks public with his comment on rape; Twitter users express outrage
*Muzzafaranagar riots:
The clashes between the Hindu and Muslim communities in Muzaffarnagar district, Uttar Pradesh, India in August - September 2013, resulted in at least 49 deaths and injured 93 and left more than 50,000 displaced. Akhilesh Yadav led SP was blamed for not being able to control riots between muslims and Jats.
Read: Lok Sabha Elections 2014: Unrepentant Samajwadi Party seeks to play minority-victim card
Also read: BJP reaches out to Muslims
*Akhilesh Yadav and Saifai mahotsav:
As per media reports, around 10 million rupees were spent on the fiesta, which is attended by political leaders, film artists and corporate leaders every year. Bollywood superstars like Salman Khan, Madhuri Dixit, Alia Bhat, Sara Khan and Soha Ali Khan performed in the annual Saifai Mahotsav on Wednesday.
Besides, the Bollywood big wigs, two dozen other TV actors, comedians also performed at Saifai, which has become a major attraction for the people of the region including Etawah, Mainpuri, Firozabad, Shikohabad and Agra.
Several Bollywood actors including Salman Khan and Ranveer Singh performed at the event and seemed delighted with the arrangements made for them. The festival, organised every year in memory of a late nephew of Mulayam Singh Yadav, was into its 15th edition, but it had come under heavy shelling from the Opposition parties as it was held against the backdrop of the controversy over the relief camps for Muzaffarnagar riot victims, and their plight.
As many as 34 children are reported to have died in these temporary shelters after failing to withstand the bitter cold that has swept the region.
Also read: Akhilesh Yadav accuses media of 'negative reporting' on Saifai Mahotsava, asks for apology
*Priyanka Gandhi-Varun Gandhi:
The Gandhi cousins have an understanding that Sultanpur, Amethi and Rai Barely are 10, Janpath bastions and they should not disturb each other in these constituencies.
Varun broke this unwritten rule by shifting base from the Pilibhit parliamentary constituency, from where he contested in 2009, to Sultanpur this time.
On Tuesday, he filed his nomination papers as a Bharatiya Janata Party (BJP) candidate from Sultanpur, just 34 km from Amethi, where cousin Rahul Gandhi is contesting.
Though Varun maintained he will neither campaign in Amethi nor Rae Bareli, where Congress president Sonia Gandhi is in the fray, Priyanka sharpened her tirade against him, saying it was an ideological war and "not a family tea party."
On Sunday, Priyanka said he has gone "astray". Addressing a meeting in Amethi, she said, "He is definitely from my family, he is my brother. But he has gone astray. When a young one in the family chooses the wrong path, then the elders show them the right path, the right way. I urge all of you to show my brother the right path."
Read: Priyanka Gandhi, Varun Gandhi war of words escalates
*Sonia Gandhi campaigns for Rahul Gandhi:
Ten years after she followed in the footsteps of her mother-in-law, Indira Gandhi, and "gave her son to Amethi", Congress president Sonia Gandhi braved bad weather and returned to the town on Saturday, this time to campaign for her son and party vice-president Rahul Gandhi.
Sonia said by sticking to Congress, Amethi had emerged as an education hub and got mega food park schemes giving employment to 40,000 people, six national highway projects and self-help groups to empower women.
"It feels like yesterday when Indira and Rajiv came to Amethi and she told you she was giving Amethi another son. In the same spirit, I handed over my son Rahul to you in 2004. Both Rahul and Priyanka have a lot of affection from you. He (Rahul) has worked for Amethi with dedication and love. I hope you will support him and the others of Congress, as has been Amethi's tradition."
Read: Lok Sabha elections: Amethi holds firm to Gandhi legacy
Meanwhile, Arvind Kejriwal campaigned for Kumar Vishwas too.
Aam Aadmi Party chief Arwind Kejriwal reached Congress bastion Amethi on Sunday to campaign for the AAP's Lok Sabha candidate Kumar Vishwas, and said both Narendra Modi and Rahul Gandhi must be "defeated" in the country's interest.
The former Delhi chief minister began his roadshow and corner meetings here backing Vishwas, who has been pitted against incumbent MP and Congress vice president Rahul Gandhi in the May 7 Lok Sabha polls.
Read: Arvind Kejriwal campaigns for Kumar Vishwas in Amethi, hits at Rahul Gandhi, Narendra Modi
*Kumar Vishwas attacked:
The motorcade of AAP leader Kumar Amethi was attacked late Friday in Uttar Pradesh's Amethi, police said. AAP blamed the Congress for the attack.
Vishwas, a poet-turned-politician, alleged that many Aam Aadmi Party (AAP) workers were beaten up and many vehicles in his cavalcade damaged by Congress workers.
Read: 5 Must Reads: Kumar Vishwas attacks Gandhi family, Amit Shah's ban lifted, and why is no one talking about climate change
The incident took place when Vishwas, who is taking on Congress vice president Rahul Gandhi from the Amethi parliamentary constituency, was on way to Sinduriya village.
Read: Kumar Vishwas's cavalcade attacked in Amethi
*Announcement of Smriti Irani's candidature
Earlier, it was said that AAP would field Kumar Vishwas against Gandhi scion rahul Gandhi from the Amethi bastion which is a congress territory. With the Lok sabha elections around the corner, BJP may field Smriti Irani against these two candidates.
Reports suggest that the BJP has conveyed the message to Irani, who has given her nod to take on Rahul in Amethi, considered to be a Gandhi bastion.
If BJP finalises Irani for Amethi, the Gandhi bastion would witness an interesting three-way contest – the other two being Rahul Gandhi and AAP leader Kumar Vishwas.
Read: Once a critic, Smriti Irani now hardsells Narendra Modi's image to woo voters
Watch the election related videos below: