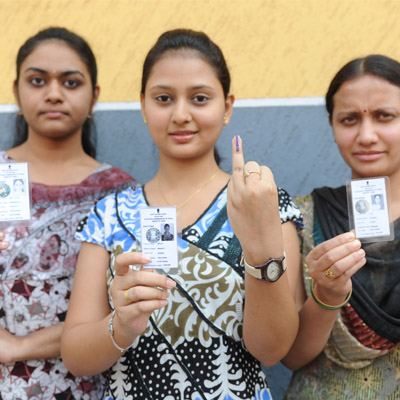 Around 26% of the 4.62 crore electorate have exercised their franchise till around noon in the single-phase polls in Karnataka on Thursday, where the ruling Congress and BJP are battling it out in a hot contest for 28 seats.
Voting across the state got off to a moderate to brisk start, as it began at 7 am and was reported at about 10% in the first two hours and reached around 25% in five hours, officials said.
Two officials on poll duty died of heart attack in Belgaum and Tumkur districts, police said.
Polling was proceeding smoothly and peacefully across the state, Additional Director General of Police (Law and Order), MN Reddy said.
In the prestigeous contest in Bangalore South, where Infosys co-founder Nandan Nilekani is pitted against five-time MP BJP's Ananth Kumar, the voter turnout was impressive reaching 30% around noon.
Polling was however moderate in other two Bangalore Constituencies-- North and Central.
Some 85,000 security personnel, including the central forces, are provide security cover across the state with 54,294 polling booths, 8,658 of which are identified as hyper sensitive and 14,400 as sensitive.
The Election Commission has introduced Voter Verifiable Paper Audit Trail (VVPAT) system on an experimental basis in Bangalore South, which is among the seven constituencies in the country to be chosen for it.
VVPAT is a printer with drop box. It prints and displays a slip for seven seconds after the vote is cast so that a citizen can also see who they cast their vote for. The slip will then get automatically dropped into the drop box next to the Electronic Voting Machine and can't be retrieved.