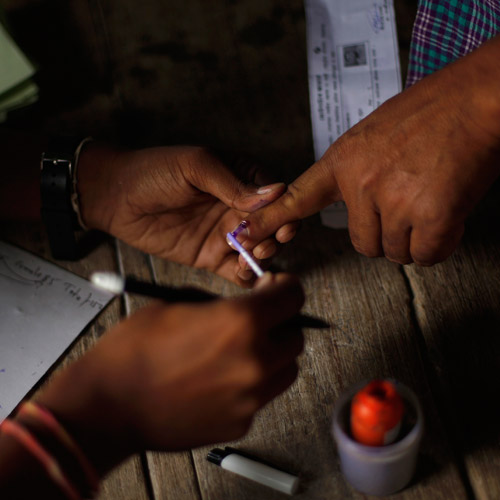 The long-running Lok Sabha elections--the world's biggest democratic exercise--got underway today with polling in five of the 14 constituencies in Assam and one of the two in Tripura, drawing a very high turnout of voters.
Tripura West constituency saw 84% polling while in Assam 72.5% voters cast their votes in five constituencies as the first part of the nine-phased general elections ended peacefully. "We expect the poll percentage to cross 75%" in Assam, Deputy Election Commissioner Alok Shukla told reporters in New Delhi.
An estimated 7.6 million people were eligible to vote in Tezpur, Kaliabor, Jorhat, Dibrugarh and Lakhimpur constituencies in Assam and Tripura (West). The next phases of polling for the remaining eight seats in Assam will be held on April 12 and 24 and the same in Tripura (East) seat will be held on April 12.
In the 2009 general elections, the whole of Assam had recorded 69.60% polling. The poll percentage then in Tripura (West) seat was 86.25%. In Assam's five constituencies with nearly 64.50 lakh electors, 51 candidates are in the fray. Tripura (West) has 13 candidates.
Stakes are high for Congress, BJP, Trinamool Congress, AIUDF, AGP, and CPI(M), in the five seats in Assam and Tripura.
Among the 51 candidates in the five Assam constituencies, which went to poll today, are union ministers Ranee Narah and Paban Singh Ghatowar, former union minister and sitting MLA Bijoy Krishna Handique, Chief Minister Tarun Gogoi's son Gourav Gogoi and Bhupen Kumar Bora of Congress.
Congress rebel and Independent candidate Moni Kumar Subba is also contesting. For BJP, the contestants are its state unit president Sorbananda Sonowal and Kamakhya Prasad Tasa and for AGP Arun Kumar Sarma, Pradip Hazarika and Joseph Toppo.
Seeking to bring more transparency and ensuring free and fair elections, the EC did live webcast in 20 polling stations in the first phase. Congress is desperately seeking to better its performance of seven seats in 2009 in Assam to offset possible reverses in other states ruled by it and opinion polls also projected the state to be the only bright spot in an otherwise gloomy scenario.
Powered by high-octane campaigning by its PM candidate Narendra Modi, BJP too is trying to wrest the initiative from Congress in the state. Elections in Tripura is crucial for CPI(M) as this is the only state the Left is in power after having been voted out in West Bengal and Kerala and facing marginalization at the national level struggling to find allies.