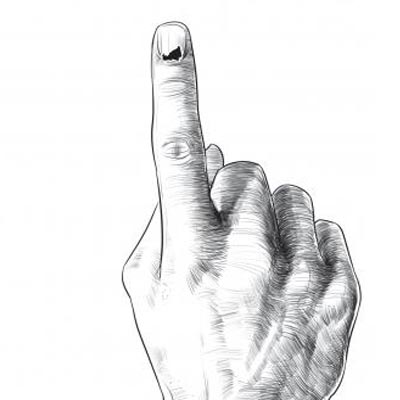 A third of the electorate cast their ballot in the first few hours of voting for the second Lok Sabha seat in Left ruled Tripura, an official said.
Around 30% electorate cast their ballot till 10 am Saturday, an official said.
According to Election Commission officials, balloting took place in tribal reserve Tripura East constituency with no untoward incidents reported so far.
On April 7, over 86% of the 1.2 million voters cast their votes in the Tripura West constituency.
"Long queues of men and women voters were seen in most of the 1,490 polling stations. Despite summer heat, voters in large numbers came to the polling booths early," Tripura Chief Electoral Officer Ashutosh Jindal told IANS.
He added that so far around 30% votes were cast in the parliamentary constituency, mostly dominated by the tribals.
The balloting started at 7 a.m. and it will continue till 5 pm, one hour more than the previous elections. "Due to technical snags of EVMs (Electronic Voting Machine) in some polling booths, the voting was delayed for a while, but the engineers either set it right or replaced it and the balloting started as usual," Jindal said.
Of the 1,490 polling stations, six are all women polling stations manned by women polling personnel only.
With majority tribals, over 1.13 million voters - half of whom are women - are eligible to exercise their franchise to elect their one Lok Sabha member from among the 12 candidates, including two women.
Manipur State Rifles, Central Reserve Police Force, Assam Rifles and Border Security Force personnel besides the state's security forces have been deployed to help conduct the polls freely and fairly.
In Saturday's polling, the main battle will be between Communist Party of India-Marxist's Jitendra Choudhury and Sachitra Debbarma of the Congress.
Choudhury, 57, is Tripura's incumbent industry, commerce and rural development minister, while 64-years-old Debbarma is a national award winning teacher
Others in the fray include Parikshit Debbarma (Bharatiya Janata Party), Bhriguram Reang (Trinamool Congress) and Karna Bijoy Jamatia (Aam Aadmi Party).
Since 1952, the Left has won the Tripura East seat 10 times while the Congress secured the seat five times. The CPI-M has been winning the seat uninterrupted since 1996.
Former Communist chief minister Dasaratha Deb (1993-98) won from the seat four times while CPI-M central committee member Bajuban Reang was elected a record seven times.
Tribals constitute one third of the total 3.7 million populations in Tripura.
CPI-M candidates got 62% votes in the 2009 polls and 69% in the 2004 election while the combined share of votes of all opposition parties, including independents, was 38.31% and 31.20%, respectively.
The ruling CPI-M this time dropped both its sitting members - Khagen Das (Tripura West) and Bajuban Reang (Tripura East).
The CPI-M is focusing on the development work it has done in Tripura, while attacking the Congress-led union government for poor governance, price rise and corruption in the country.
The opposition is focussing on the Left's alleged misgovernance, unemployment and rising crimes against women.