Bollywood and festivities go hand-in-hand as numerous songs release every year. Here's a look at some top songs perfect for celebrating holi with Chutzpah.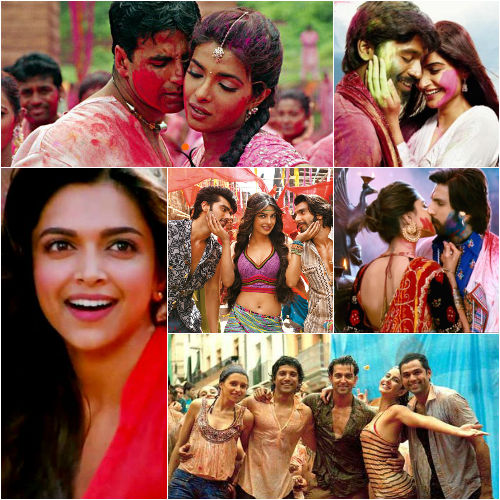 Bollywood celebrates festivals with extravagant songs and lavish sets. From 'Sholay' to the recent 'Ramleela', major films have songs on Holi and other major festivals including Diwali. From capturing the essence of Holi to weaving interesting plots around them, filmmakers have tried everything visually possible.
Here, we enlist few films and songs that can make for a good mashup series on Holi. Get, set and have fun on celebrating the festival of colours.
1. Holi ke din from Sholay
An iconic song from 'Sholay' featuring Amitabh Bachchan, Jaya Bachchan, Dharmendra and Hema Malini. A must have for Holi festivities.
2. Soni Soni - Holi Song from Mohabbatein
We can't blame you for loving festivals and Shah Rukh Khan. This song from Mohabbatein is a classic when it comes to celebrating the festival.
3. Ik junoon' (Paint it red) from 'Zindagi Na Milegi Dobara
Not typically a Holi song but with Hrithik Roshan, Katrina Kaif, Farhan Akhtar and Abhay Deol sauntering in tomato crushing ritual and water spraying around, we thought it as a win-win song for all.
4. Tune Maari Entriyaan from Gunday
Two hunks Ranveer Singh and Arjun Kapoor woo Bollywood hottie Priyanka Chopra in this song. The bell-bottoms, drape cuts and some saucy steps make this a sure Holi number!
5. Gulaab Gang: The theatrical promo
While, songs from Gulaab Gang were a bit off the mark, this promo has a certain Holi feel to it. A must watch to get into the colour splattering mood.
6. Holi Re from Mangal Pandey: The Rising
When the perfectionist of Bollywood Aamir Khan takes over a festival song, there's no denying that everyone else will follow suit.
7. Rang Barse- Silsila
The iconic Silsila starring Amitabh Bachchan, Jaya Bachchan and ex-flame Rekha was saucy, peppy and still a favourite among the masses. Have a dekko and enjoy the song. Holi hain!
8. Balam Pichkari
When the queen of B-town Deepika Padukone sauntered in shorts and danced like a dream alongside ex-flame Ranbir Kapoor, the song turned out to be a chartbuster just like the pretty lass.
9. Chhan Ke Mohalla
Gorgeous Aishwarya Rai Bachchan danced to 'Chhan Ke Mohalla' in the dud Action replay. While we beg to forget the film, this song will always be on loop during Holi. Quite a picturesque song indeed.
10. Aaj Na Chhodenge: Kati Patang
Kati Patang (1970) is a movie by Shakti Samanta starring Asha Parekh, Rajesh Khanna, Prem Chopra, Bindu, Sulochana Latkar, Chandrashekhar and others. You may as well remember this song from previous Holi celebrations.
1. Do me a favour, lets play Holi- Waqt
With Akshay Kumar, Priyanka Chopra, Amitabh Bachchan dancing in joyous celebrations, this song was a blockbuster for Holi dance.
11. Holi Khele Raghuveera song from movie Baghban
While the movie dealt with parents-children relationship and Hema Malini-Amitabh Bachchan saga from dependence to independence of sorts, this song came in at the beginning of the film to show family union. A definite song for Holi celebrations!
12, Lahu Munh Lag Gaya Song - Goliyon Ki Raasleela Ram-leela
She swayed like a dream while he watched! This Deepika Padukone-Ranveer Singh song is still remembered for palatable chemistry and delicious lyrics and music.
13. Tum Tak Song - Raanjhanaa
AR Rahman's music and the beautiful landscape in Varanasi. A perfect mix for a Holi song starring Dhanush and Sonam Kapoor.
14 Haule Haule
While this song may not deal with Holi completely, there were parts that glorified the celebrations and Shah Rukh Khan and Anushka Sharma's growing fondness for each other in the film.
15.Madhubala: Mere Brother Ki Dulhan
Katrina Kaif, Ali Zafar and Imran Khan swayed to Holi celebrations in Mere Brother Ki Dulhan with some bhang and peppy dancing.