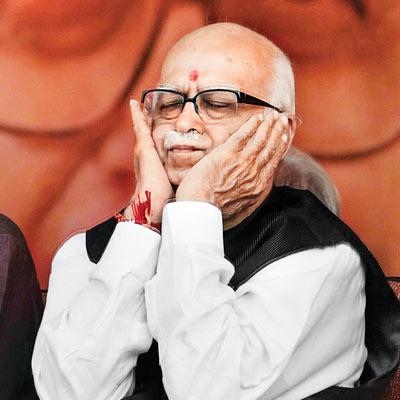 BJP leader L.K. Advani said Thursday that he has agreed to contest from Gandhinagar constituency, putting at rest speculation about the Lok Sabha seat he would be fighting from.
BJP patriarch L.K. Advani Thursday said he has decided to contest from the Gandhinagar parliamentary constituency after he was "touched" by the gesture of party leaders to give him the choice between the Gujarat seat and Bhopal.
Putting an end to the raging controversy over the reported sulking of the senior party leader after he was told to contest from Gandhinagar and not his choice of Bhopal, Advani said: "I have decided to contest the 2014 general elections from Gandhinagar itself. I have conveyed my opinion to (party president) Rajnath Singh."
Advani said he agreed to go with the choice of Gandhinagar after he was approached by the party's prime ministerial candidate Narendra Modi and by Rajnath Singh and it was conveyed to him that he was free to choose between the two parliamentary seats.
The BJP's decision to field LK Advani from Gandhinagar against his wishes will in all probability deepen the rift between the Advani and the Narendra Modi camps as the party moves into election gear.
The central election committees's decision is tough on Advani who wanted to contest from Bhopal in Madhya Pradesh, which he considered safer. This also makes it clear that Modi had his way by keeping Advani tied down to Gandhinagar.
Advani kept away from Wednesday's CEC meeting, signalling something was not right in the party's upper echelons. His aides made it clear that the senior leader would not meet the media.
Advani stayed away from the meeting, ostensibly because the CEC was discussing his seat. But this can hardly be the truth because Modi and Sushma Swaraj were present at the meet when their seats were discussed. A source said the party decided on Advani's constituency before noon.
The Advani camp is apprehensive that the party's rank and file in Gujarat might have turned against him because he opposed Modi. And this can lead to an unpleasant encounter even if it did not hamper Advani's prospects in Gandhinagar.
An Advani aide indicated that the senior leader had told Rajnath Singh about his desire to contest from Bhopal. But he left it to the party to take a final call.
The source said Singh spoke to Advani over the phone and deputed leader of opposition in the Lok Sabha, Swaraj, to persuade the senior leader.
The intention to move away from Gandhinagar, which Advani has been representing since 1991, was being seen as a reflection of the estranged ties between Advani and Modi. Their differences came out in the open when Advani kept away from the national council meeting in Panaji in June 2013 where Modi was chosen as the party's election campaign committee chairman. In September 2013, Advani made it clear that he did not approve of Modi being named the prime ministerial candidate.
So, many felt that Advani was uncomfortable about contesting the LS polls from Modi's Gujarat. But Gandhinagar will never be unsafe for Advani whatever be his differences with Modi. Modi and his aides are keen that the BJP win all the 26 LS seats in Gujarat. But that is what Advani did not want — to be seen fighting and winning an election in Modi's shadow.
Advani felt he would stand tall in Bhopal and Madhya Pradesh CM Shivraj Singh Chauhan would have felt awed by his presence. Modi respects Advani but he does not look up to him anymore. Modi is well aware that he is a leader in his own right and the whole party is standing in his shade.
The other prominent nominees include Hindi film actress Hema Malini from Mathura. The BJP declared 67 candidates — 21 from Gujarat, 15 from Uttar Pradesh, two from Maharashtra among them. The two Maharashtra nominees are Heena Gavit from Nandurbar and Kapil Patil from Bhiwandi.
The three important constituencies that have not been declared are Barmer, Pune and Ahmedabad (East). Senior leader Jaswant Singh is expected to be nominated from Barmer, and party spokesperson Prakash Javadekar is in the run for Pune.