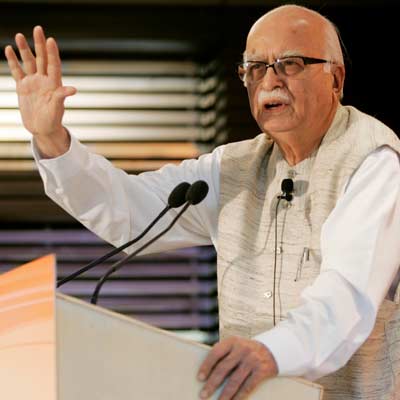 At a rally in Madhya Pradesh, LK Advani paid tributes to India's first prime minister Jawaharlal Nehru.
While addressing an election rally in a tribal area of Madhya Pradesh on Saturday, he said that Nehru had played a key role in laying the foundation of a strong democracy in India.He praised him alongside Mahatma Gandhi, at the venue.
"The democratic structure of this country has been strengthened because of people like Nehru, Gandhi, Dr Bhimrao Ambedkar and Shyama Prasad Mukherjee," Advani said.
But he was silent about the Modi wave and refrained from making any comments on that. Advani equated BJP's prime ministerial candidate and Gujarat CM Narendra Modi with other CMs of his party – Shivraj Singh Chouhan (Madhya Pradesh CM) and Raman Singh (Chhattisgarh CM). He said that all three chief ministers had done good work.
Meanwhile, Advani who has been rooting for the idea of banning voters who do not vote in these elections asked people to turn out and vote for BJP in large numbers. But, he did not seek votes for Modi at all.
The BJP leader's comment comes months after Modi had said that the fate of the country would have been different if Sardar Vallabh Bhai Patel had been India's first PM.
"Every Indian wishes that Patel should have become the first PM of India. If it had been so, then the face and the fate of the country would have been something else," Modi had said, adding, "Patel was a visionary. He worked for the unity of the country and has left behind a rich legacy for us."
Narendra Modi has also taken on the Congress for ignoring Patel and giving him the Bharat Ratna in 1991, 41 years after his death.
Patel was given the country's highest civilian award by the Narasimha Rao government.