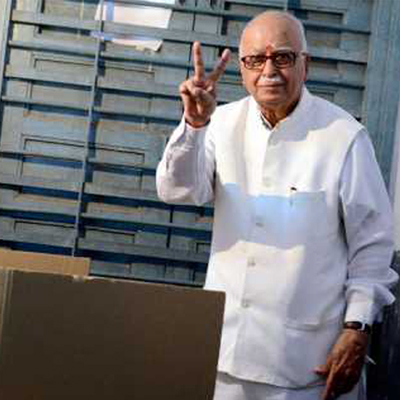 Veteran Bharatiya Janata Party (BJP) leader Lal Krishna Advani was seen glued to the television set, watching the counting of votes.
Advani's daughter, Pratibha was also seen by her father's side.
Latest results aired on television channels show the opposition National Democratic Alliance leading in 298 seats (+ 160), UPA leading in 77 seats (-149) and others leading in 147 (-12) The leads are available for 523 out of the 543 seats that are up for grabs.
Counting of votes to elect representatives to the 16th Lok Sabha and four State Assemblies -- Andhra Pradesh, Odisha, Arunachal Pradesh and Sikkim -- began at 8 a.m. this morning amid tight security.
The exit polls have projected that the BJP and its allies would touch the half-way mark in the 543-member Lok Sabha. Most polls show the incumbent UPA regime getting between 101 and 148 seats.