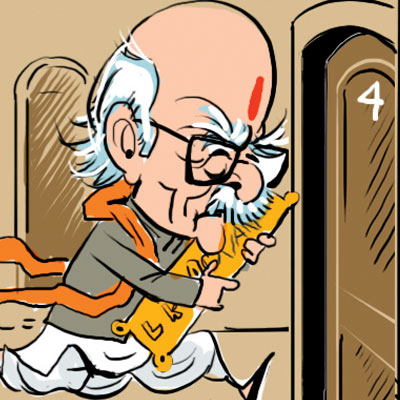 Senior BJP leader LK Advani will get to retain Room number 4 of Parliament House, quelling whispers in the corridors that he was being denied a chamber in the Narendra Modi regime.
Parliamentary affairs minister Venkaiah Naidu conveyed to Advani on Tuesday morning that he would not have to shift out of his room.
His nameplate was restored on the wall outside the door though it did not have any designation.
Advani, who had occupied the room since 2010 as working chairman of the NDA, had moved out of it last week and had been sitting in the party office adjoining it.
Sources said the decision to move out when the session began on June 3 was his own and that nobody had asked him to vacate the room. However, it had caused a flutter setting off speculation that the senior leader was "room less" in the new regime.
According to Parliament sources, parties are allocated space according to their strength in the House. With the BJP now having 282 members in Lok Sabha, the party will get more space. While the Parliamentary affairs Lok Sabha secretariat allocates rooms to ministers, the Lok Sabha secretariat gives space to parties.
Meanwhile, the Lok Sabha secretariat has written to political parties asking them about the seating arrangement in the House. The parties are allotted blocks and it is left to parties to decide on seating arrangement of its members.
With no Opposition party getting 10 per cent seats in the House, the Lok Sabha may not have a Leader of Opposition. The government, which had been examining past precedence, had said the decision would be left to the Speaker. While Congress leader Ghulam Nabi Azad is the leader of Opposition in the Rajya Sabha, there is no such post in the Lower House.
The Congress debunked the government's argument of citing past precedence saying the role of LoP had changed in the past decade. Congress' Abhishek Manu Singhvi said the LoP played a crucial role in selection panels for CVC, Lokpal and NHRC chairperson.
The BJP is considering giving the posts of deputy Speaker, head of Public Accounts Committee (PAC) and chairperson of standing committee on finance to different Opposition parties i.e. to AIADMK, Congress, etc.