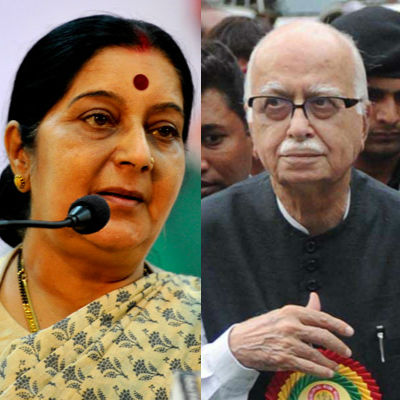 Bharatiya Janata Party (BJP) leaders are now scurrying to make good with BJP's prime ministerial nominee Narendra Modi in order to be able to assume key roles within the BJP-led National Democratic Alliance (NDA) following BJP's victory prediction by the exit polls.
Top BJP leaders including Sushma Swaraj and LK Advani have been in a series of meeting over the last few days with.
Sushma Swaraj met with Nitin Gadkari and Rajnath Singh at her residence so she could receive a respectable porfotfolio in the tentative Narendra Modi led government on Wednesday morning. It is being reported that she would be getting any of the top four portfolios. Swaraj however denies such speculations saying the meeting was just a courtesy call.
Top BJP leaders Arun Jaitley, Nitin Gadkari and Rajnath Singh will also be meeting LK Advani who is eyeing to be the Speaker of the Lok Sabha.
Reports say Nitin Gadkari is acting as the mediator for both Swaraj and Advani.
Swaraj was a member of a group led by Advani within the BJP that opposed Narendra Modi's selection as the prime ministerial candidate. Despite previous acrimony, LK Advani himself announced Modi's anointment as BJP's PM candidate. Modi responded to this by making sure to visit Advani during every important occasion to show respect to his seniority.
Narendra Modi wants to be the Acting Chairman of the National Democratic Alliance (NDA), a position still held by Advani, in order to avoid dual centres of power within NDA if his emerges victorious.