* The electricity employees of Rayalaseema and coastal Andhra regions of Andhra Pradesh will go on indefinite strike from Sunday to protest the central government's decision to carve out separate Telangana state. Read story
* We want Andhra Pradesh to be united: Jaganmohan Reddy. Read story
* Looking to allay apprehensions over the proposed bifurcation of Andhra Pradesh, Union Minister S Jaipal Reddy has suggested that an agreement could be signed between the people of Seemandhra and the Telangana regions to address all contentious issues. Read report
* A combative YSR Congress Party chief Y S Jaganmohan Reddy on Saturday launched an indefinite strike against Centre's "arbitary" decision to bifurcate Andhra Pradesh and said it will be challenged in the Supreme Court. Read report
* Senior Bharatiya Janata Party (BJP) leader Murli Manohar Joshi on Saturday criticised Union Home Minister Sushil Kumar Shinde for his description of protests following the nod for the creation of a separate Telangana state as 'natural feelings'. Read report
* Normal life remained crippled for the second day in coastal Andhra and Rayalaseema regions where a bandh is being observed to protest the Centre's decision to bifurcate the State. Read report
* Andhra Pradesh Non-Gazetted Officers (APNGOs) and other united-AP supporters have given a 48-hour bandh call, while Jaganmohan Reddy-led YSR Congress has called for 72-hour shutdown in the non-Telangana regions.
* YSR Congress Party chief YS Jagan Mohan Reddy has gone on an indefinite fast to protest against the Union Cabinet's nod to bifurcate Andhra Pradesh and create a separate Telangana state. Read full story
* This is the second time that Jagan is undertaking an indefinite fast on the issue. Last month, he went on an indefinite hunger strike in Chanchalguda Jail, where he was lodged as an undertrial in an alleged disproportionate assets case against him, but it was foiled on the fifth day.
* Jagan said his party would challenge the Union Cabinet's decision in the Supreme Court.
* "We are opposing the unilateral manner in which the Centre is functioning. How can it go ahead with the bifurcation process without a resolution in the state Assembly?" Jagan asked.
* The Kadapa MP asked why the Centre shouldn't change its decision "when there is so much happening in the state", when it could revoke the ordinance (aimed at protecting convicted lawmakers) on the intervention of Congress vice president Rahul Gandhi.
* Thousands of devotees heading for the hill shrine of Lord Venkateswara were badly hit as the vehicular traffic came to a halt following the 48-hour strike called by anti-Telangana protesters. Read report
* Protestors demanding 'samaikyandhra' (united Andhra) continued to block state and national highways, disrupting traffic to and from the neighbouring states of Tamil Nadu, Karnataka and Odisha.
* Meanwhile, tension prevailed in Vizianagaram city, where police lobbed teargas shells to disperse agitators who hurled stones at men in uniform today.
* Police fired teargas shells when protesters pelted stones on them in Kothapeta and Clock Tower areas of the city in coastal Andhra.
* Tension prevailed in Vijayanagaram as protestors targeted the properties of state Congress chief Botsa Satyanarayana and his relatives. They also held demonstrations in front of the residences of several state ministers and parliamentarians, blaming them for the centre's decision.
* Police have made elaborate security arrangements in view of Chief Minister N. Kiran Kumar Reddy's visit to the temple to make offerings on behalf of the state government. Student and govt employees' leaders have been taken into preventive custody.
* Minister of State for Railways, Kotla Jaya Surya Prakash Reddy, today resigned from his post in protest against the Union Cabinet's decision to go ahead with the proposed bifurcation of Andhra Pradesh. Read here
* Minister of State for Railways Kotla Jaya Surya Prakash Reddy resigns from the post over Telangana issue. More details are awaited.
* "We have not seen any profit for Congress while taking this decision. It was a Congress commitment and we have fulfilled it," Home Minister Sushilkumar Shinde said on Friday in response to allegations similar to those made by Mamata Banerjee. Read full story.
* West Bengal Chief Minister Mamata Banerjee has described the union cabinet's clearance to creation of Telangana as a separate state as a decision guided by politics and elections. Read full story.
* Pondering hard on the Congress party's decision for over two months, the government finally bit the Telangana bullet on Thursday with the union cabinet setting the process rolling for the formation of the 29th state of the country. Read full story
* At the emergency meeting with ministers, MPs, MLCs and MLAs from coastal Andhra and Rayalseema to discuss the developments following the Union Cabinet's nod to formation of Telangana by Andhra Pradesh Chief Minister N Kiran Kumar Reddy, it was decided that the issue would be fought on the floor of the assembly house and that no one would resign.
* The ministers of Home, Finance, Law and Water Resources will be part of the 10-member GoM set up to go into the issues arising out of the bifurcation of Andhra Pradesh, like determination of boundary, sharing of assets and river water, among others.
* Home Minister Sushilkumar Shinde said the GoM will make its recommendations within six weeks with the Telangana Bill likely to be introduced in Parliament in the winter session. Read full GoM story
* YSR Congress chief Jagan Reddy spoke to the media about the Telangana fallout.
Reddy said, "All Seemandhra MPs must resign. I will be sitting in Hyderabad on an indefinite fast from tomorrow. No scientific procedure followed in Telangana formation. Because they have power, they are doing as they wish. I request every party to come together to fight to keep the state united. Request Chandrababu Naidu today to support our protest. What kind of democracy is this where assembly resolution is being ignored. Elections are due in Andhra Pradesh, is there a tactical reason behind the bifurcation."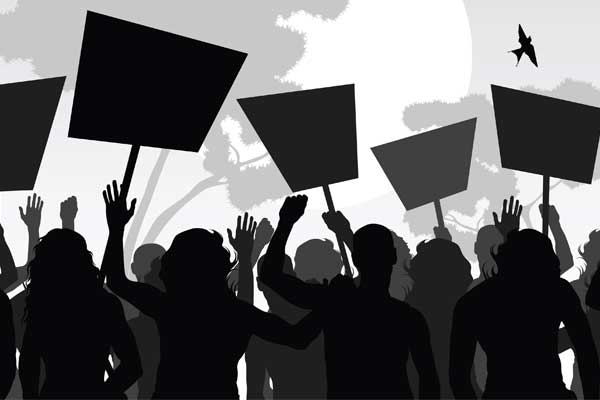 (Representational image of a protest)
* YSR Congress Party president YS Jaganmohan Reddy has called for a 72-hour shutdown in Seemandhra region to protest against the Union Cabinet's approval for creation of Telangana.
* Reddy accused the Union Government of trying to woo voters by approving the formation of Telangana, and demanded the resignation of Cabinet members who have ignored and betrayed the state of Andhra Pradesh.
* Police and paramilitary forces were deployed in large numbers to maintain law and order across the region.
* Security beefed up at the residences of central and state ministers, members of parliament and the state legislature in view of the widespread protests.
* Shops, businesses, transport and educational institutions were closed in all 13 districts of Seemandhra - as the Rayalaseema and coastal Andhra regions are jointly called - as a 48-hour shutdown began in the morning to protest the union cabinet's decision to carve a separate Telangana state.
* Congress General Secretary Digvijay Singh categorically stated that his party would not reconsider the decision to support creation of the state of Telangana, and alleged that both YSRCP and TDP were on board regarding the decision earlier. Read full statement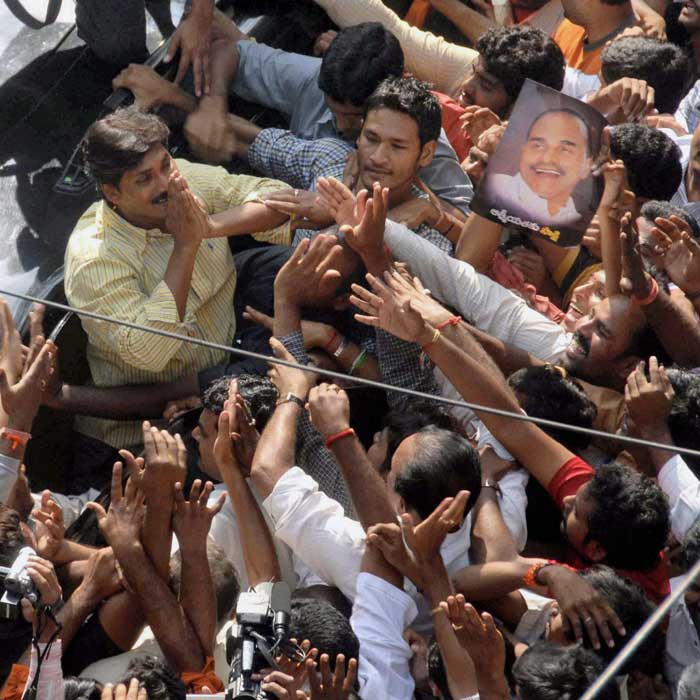 (People Show their support for Jaganmohan Reddy.)
* The united-Andhra supporters blocked highways and enforced closure of shops and other commercial establishments and educational institutions in the two regions.
* The protesters organised rallies and sit-ins at important junctions at several towns.
* The pro-united Andhra employees of Andhra Pradesh government, including the staff of state-run Andhra Pradesh State Road Transport Corporation (APSRTC), have already been on strike since mid-August.
* Sporadic incidents of public and private property, including offices of ruling Congress, being attacked also came in from districts like Srikakulam, Kadapa and Chittoor.
* A clash took place in Anantapur district between the workers of TDP and YSR Congress in the town. TDP MLA Paritala Sunita alleged that YSRCP activists tried to stop them during a protest and also threw stones.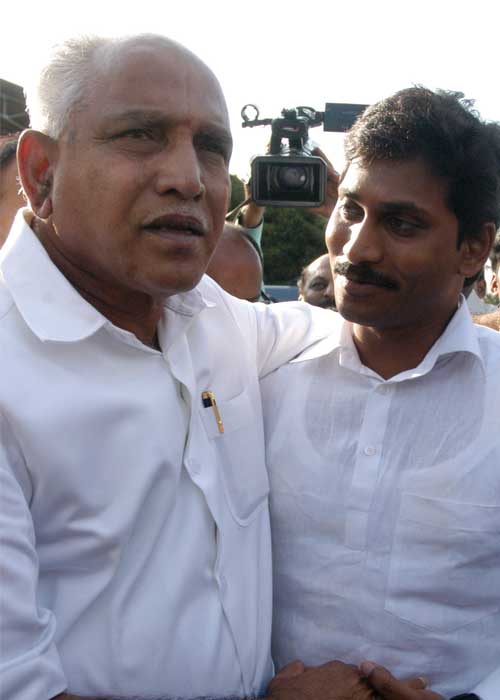 (BS Yediyurappa along with Jaganmohan Reddy)

* Media reports said some Congress MPs and other senior leader are contemplating quitting the Congress in protest against the move to divide Andhra Pradesh.
* Cabinet nod to Telangana: Chiranjeevi resigns, Pallam Raju also quit. Read full story
* "After giving it a thought, I have decided to resign. It is a very sad day for Andhra Pradesh. I am hurt and aggrieved at the way the decision has been rushed to bifurcate the state," Union Minister Pallam Raju said. Read his full statement
* BJP lashes out at the UPA Government for failing to bring everyone on board with regard to the formation of Telangana as the country's 29th state, and said the opportunistic Congress is eyeing upon the elections with no commitment for the cause.
* Congress MP from Seemandhra L Rajagopal termed as "unconstitutional" and "undemocratic" the government's decision to bifurcate Andhra Pradesh and said he will move the Supreme Court challenging the move.
* Six central ministers from Seemandhra region have resigned to protest the union cabinet's decision to create a separate Telangana state.
* Wherever there is bifurcation of any state, feelings are there. No one can avoid these. But we have to console them, says Home Minister Sushilkumar Shinde. Read his full statement
* The Home Minister dismissed the suggestion that the Naxal problem may increase in the new state Telangana once it comes into existence.
* "This is a long pending and just demand of the Telangana people. The decision of the Cabinet to form Telangana consisting of 10 districts including Hyderabad is in the right direction," said CPI Central Secretariat. Read full statement