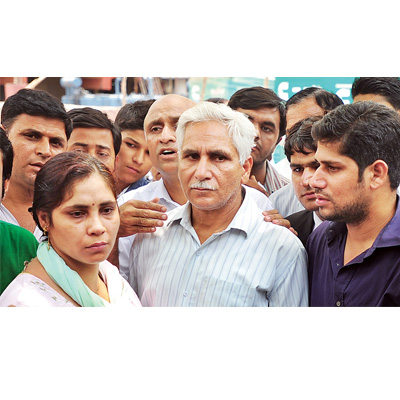 The CBI court on Monday awarded life imprisonment to 17 Uttarakhand police personnel who were convicted for the conspiracy and murder of a 22-year-old MBA student in a fake encounter in Dehradun in 2009.
Special CBI Judge JPS Malik handed down the punishment to the 17 policemen after holding them guilty last week for involvement in the conspiracy to kidnap and kill Ranbir Singh, a resident of Ghaziabad, who was in Dehradun to take up a job on July 3, 2009. The court has also imposed a fine of Rs 5.5 lakh on the 17 convicted policemen; the money will be given to the victim's family as compensation.
"I am not happy with the court's decision. No amount of money can bring back my son. All of them should be hanged," said Ranbir's father, Ravinderpal Singh, who added that fining the convicts would not serve any purpose.
Earlier, Ranbir's family as well as the CBI had sought the death sentence for the convicts, stating that the police behaved in a "predatory manner" and the case falls under the "rarest of rare" cases.
Prosecution lawyer AT Rao stated, "At least some justice had been done. Even though life sentence is equally bad as the convicts will stay in jail but his (Ranbir) father wanted them to be hanged. We may go to the High Court."
The defence counsel countered that the court verdict came under huge media pressure and that they would approach a higher court against the lower court's decision.
The court has imposed a fine of Rs 50,000 each on seven cops–six Sub-Inspectors Santosh Kumar Jaiswal, Gopal Dutt Bhatt (SHO), Rajesh Bisht, Neeraj Kumar, Nitin Kumar Chauhan, Chander Mohan Singh Rawat and constable Ajit Singh–who were held guilty of murdering Ranbir. The other ten policemen, convicted for conspiracy to kidnap and kill Ranbir, have been asked to furnish a fine of Rs 20,000 each.
CBI during its investigations had reached to a conclusion that Ranbir was killed after being subjected to torture. The agency had also alleged that on the same day, 12 bullets were pumped into Ranbir's body from close distance and the incident was passed off as an encounter. There were 27 other deep injuries on his body.
Family members of some of the convicts were present in the court, and broke down when the special judge announced the sentence. "Santosh is our lone breadwinner. Where will go now. The judgment is one sided," said a family member of Santosh Kumar Jaiswal.