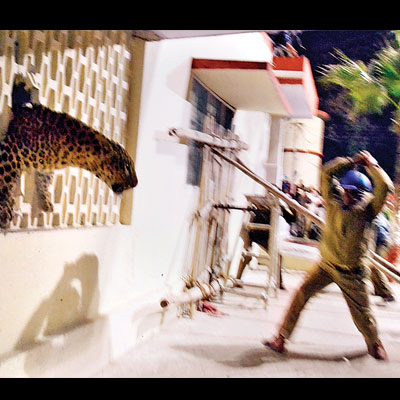 There is an undeclared curfew in Meerut. The reason: a leopard is on the prowl.
Schools, colleges and markets in the city remained shut while roads wore a deserted look as there was minimal traffic after the district administration sounded a warning about the injured leopard running loose on the streets on Monday.
Meerut is not the only town witnessing a man-animal conflict with big cats terrorising people in other towns and villages in Uttar Pradesh. Another leopard sent a scare through the Charthawal area of Muzzaffarnagar on Monday. Besides, a tiger has been stalking the villages in Bhira police station area that sits cheek-by-jowl with the Dudhwa National Park in Lakhimpur Kheri district. Over a dozen schools situated near the forest had been shut due to the lurking tiger, officials said.
In west UP, people in a swathe of villages spread over about 130 km in Sambhal, Moradabad, Amroha and Bijnore districts have been living in mortal fear of a man-eating tigress that has ventured out of the neighbouring Corbett National Park. The big cat has already devoured nine people but remains untraceable despite six professional hunters and a big posse of forest department officials being on its trail for more than a month now.
However, it is the latest incident, in Meerut, which has locals and tiger experts befuddled. "I have never heard of a leopard surfacing in a heavily populated urban area. Besides, there is no jungle outside city limits," said renowned tiger expert Ram Lakhan Singh.
The leopard was first seen in a timber merchant's godown in Sadar Bazar, the main market area of Meerut, on Sunday morning. The big cat escaped from there and entered the Cantonment Board Hospital, injuring several people on the way.
Police and forest department personnel struggled for several hours but failed to capture the animal as they didn't have a tranquilizer gun. A police officer and a journalist got clawed by the furious cat, and even the army's quick response team that had been pressed into service proved helpless. Policemen finally managed to lock it up in the general ward. But the leopard mysteriously vanished from the hospital in the wee hours of Monday. CCTV footage showed that it casually ambled out of the hospital at 3.28 am.
Meerut Additional District Magistrate (City) SK Dube told reporters that an alert had been sounded in the city and people had been asked to move out of their homes only for urgent and emergency purposes. He confirmed that the entire market and most schools and colleges were closed "as there is no saying where the leopard might resurface".
A forest official said the leopard had apparently reached the city aboard a truck that had brought wood to the timber merchant's godown from Uttarakhand on Sunday.