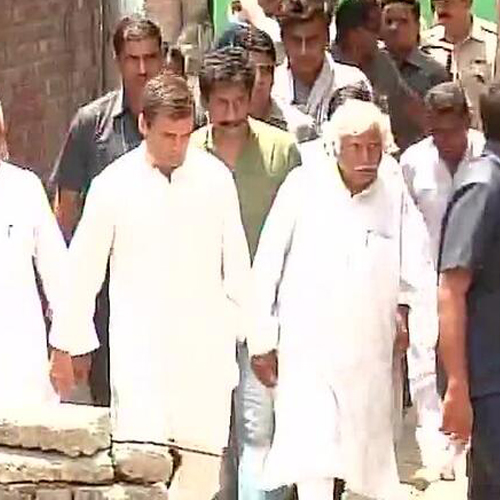 The gang-rape and murder of two Dalit girls in Badaun in Uttar Pradesh, has sparked enormous outrage, evoking strong criticism towards the Akhilesh Yadav government. And even though, arrests have been made in an immediate response to the incident, villagers of Badaun are far from satisfied, accusing the law and order authorities of apathy towards the victims. Two constables in connection with the crime have been sacked, even as police arrested another accused in the case.
Recent Updates:
Read: Mayawati to visit Badaun village
* Uttar Pradesh Chief Minister Akhilesh Yadav on Saturday asked for a CBI inquiry into the double rape and murder case in Badaun. A state government statement said Yadav gave his nod for a probe by the CBI, provided the victims' family is ready for it. Read More
Uma Bharti blames Mulayam Singh Yadav for encouraging rapists
Union Minister Umar Bharti on Saturday blamed the anti-women attitude of the Samajwadi Party (SP) leaders for the lack of fear amongst criminals in the state.
Bharti said, "Mulayam Singh Yadav and other SP leaders' comments after the punishment meted out to the rapists of Nirbhaya have resulted in encouraging potential rapists, especially in UP."
Also Read: Man arrested for raping Dalit minor girl in Punjab
* Congress vice president Rahul Gandhi on Saturday demanded a CBI inquiry of the Badaun rape case, but added that delivering justice is more important than launching a probe. "There should be a CBI inquiry in this case, but justice is more important than an inquiry. People who have done this should be made to realise that India will not tolerate such disrespect of women," said Gandhi. Read More
* Following the huge outrage over the gang rape and murder of two Dalit sisters in Badaun, Congress vice president Rahul Gandhi met the family of the victims here today. Read More
* Family members of the two teenage cousin Dalit sisters who were gang-raped and hanged, today termed the incident as more gruesome than December 16 gang-rape case and demanded that the accused should be hanged publicly. Read More
Rahul Gandhi in Badaun (UP), to meet family members of the gang rape victims pic.twitter.com/lk5NLivhhY

— ANI (@ANI_news) May 31, 2014
* All the five accused in the Badaun gang-rape, including two policemen, have been arrested by the police
* Congress vice president Rahul Gandhi will visit Badaun today, meet the families' victims
* Congress general secretary Digvijay Singh has strongly condemned the disgusting behaviour of the UP police in a post on Twitter
Disgusting behaviour of UP Police in Budayun Rape Case. Policemen abetting this crime deserve most severe punishment along with the accused

— digvijaya singh (@digvijaya_28) May 31, 2014
* Shamina Shafiq of the National Commission for Women meet family members of the gang-rape victims. NCW has also taken suo moto cognisance of the Badaun case, describing it as "gruesome".
* BJP Mahila Morcha protest against rising rape cases in Uttar Pradesh
Lucknow: BJP Mahila Morcha protest against rising rape cases in Uttar Pradesh pic.twitter.com/nWlr68Acj0

— ANI (@ANI_news) May 30, 2014
* "I hope you have not faced any danger," shot back Uttar Pradesh Chief Minister Akhilesh Yadav today when asked about the law and order situation in the state in the backdrop of the Badaun rape and murder case and the Azamgarh gang-rape incident. When the journalist said, "No", the Chief Minister said, "Thank you. You should propagate this." Read more
READ: The foot-in-mouth disease of India's politicians when it comes to rape
* Three have been arrested, two are left. Constable involved has been suspended: AK Gupta, IG Special Task Force on Badaun rape case
* Family of two murdered Dalit girls demanded a CBI probe into the incident saying they had no faith in local police which was "hand in gloves" with the accused. Read more
READ: Does the police really care about rape victims?
The Indian mindset collectively leaves a lot to be desired when it comes to successful rehabilitation of rape victims. Yet one of the most shameful problems the authorities need to address effectively is the mindset of the police officers who are in most cases the first point of contact for a woman trying to seek justice. Read more
READ: Twitter users react to #Badaun gang-rape case; condemn Uttar Pradesh CM Akhilesh Yadav
* Lashing out on the SP chief, Kiran Bedi stated, "When Mulayam Singh Yadav says boys make mistakes, then it has an impact on people's psyche."
* Blaming police laxity for the horrific gang-rape, Union Women and Child Welfare Minister Maneka Gandhi today said that a "rape crisis cell" will be constituted for speedy action on such incidents. Read more
* The UP government has submited reports to the Home Ministry on case, listing progress in investigation. Chief Minister Akhilesh Yadav has informed that the investigations were underway and assured action against guilty. The CM also sanctioned financial assistance of Rs 5 lakh each to the families of the victims. Read more
ALSO READ: #Badaun gang-rape: Does Uttar Pradesh deserve its women?
* The government has come under serious fire for its inadequate efforts to curb crime against women in the state. Especially considering, Mulayam Singh's apathetic comments from not too long, when he proposed to scrap the new anti-rape law which provides for hanging for the horrific crime. "Rape ke liye phansi par chadha diya jaayega? Ladke, ladke hain. Galti ho jati hai," he said. (Will boys be hanged for rape? Boys are boys. They commit mistakes.)
* SP Atul Kumar Saxena said the services of two constables Chhatrapal Yadav and Sarvesh Yadav have been terminated. "One more accused Awadhesh Yadav has been arrested by the police," he said. Of the seven wanted in the case, three (policeman Sarvesh Yadav and brothers Pappu and Awadhesh Yadav) have been arrested so far, he said. Sarvesh and Pappu were arrested yesterday. Four others Urvesh Yadav (brother of Pappu and Awadhesh), policeman Chhatrapal Yadav and two unidentified persons are at large. Read more
The case has drawn attention to the poor state of women safety in Uttar Pradesh. Just earlier today, it was reported that the mother of another rape victim was assaulted and stripped by the father of the rape accused, on Monday, May 26, in Etawah—the hometown of Samajwadi Party (SP) supremo Mulayam Singh Yadav.
Incidents of such brutal violence against women are not a first in Etawah, nor . There have been several cases in just one year. Read more
ALSO READ: Another Dalit girl gang-raped in Uttar Pradesh
ALSO READ: The discourse on gender-based violence: The said, the unsaid, and the resistance
National Commission for Women has also taken suo moto cognisance of the Badaun case, describing it as "gruesome". "We have taken suo moto cognisance of the gang-rape. An enquiry committee has been set up and will be sent there for further investigations into the case. We are waiting the Action Taken report and only after that we can see what needs to be done. Right now we have no information about any arrests made in the case," said National Commission for Women Chairperson Mamata Sharma. Read more
ALSO WATCH: Kalki Koechlin and VJ Juhi Pande present 'It's Your Fault' - the rape victim is never to blame
Former Uttar Pradesh chief minister Mayawati today demanded CBI inquiry into the shocking incident. Addressing a press conference in Lucknow, she also hit out at Akhilesh Yadav for deplorable condition of law and order in the state and demanded President's rule with immediate effect. Read more
Here's what happened:
In a gruesome act, two teenaged Dalit sisters were allegedly gang-raped and later hanged from a tree in Katra village here, police said. The two cousins had gone missing from their house last night, following which their bodies were found hanging from a mango tree in the village this morning in Badaun, Uttar Pradesh. The girls were aged between 14 and 15 years.
As soon as the news spread, villagers gathered on the spot and alleged involvement of one police constables and four others in the incident. The villagers also alleged that the girls were first gang-raped and then hanged from the tree.
A police constable identified as Sarvesh Yadav is absconding along with the rest of the accused, Superintendent of Police, City, Man Singh Chauhan said. The villagers also alleged the police showed apathy and refused to register an FIR last night.
Gang-rape could not be ruled out but any confirmation could be made in this regard only after postmortem, Chauhan said. The villagers protested by blocking traffic with dead bodies on Ushait-Lilawan Road and also demanded suspension of all the policemen posted in Ushait Police station. They also demanded a visit by the state Chief Minister Akhilesh Yadav to the village in this connection. The police and administration officials have reached the spot and are talking to villagers.
ALSO READ:
Women break the culture of silence
Despite the attention that the December 2012 gang-rape garnered, shedding much-needed light on an issue Indians have always refrained from talking about, sexual harassment and rape continue unabated in the country. The only silver lining we see on this otherwise darkening cloud is that women have begun to speak up.
A woman's never-ending mental checklist
Salini Sharma describes the thousands of things that a woman has to keep in mind about her safety, some even before she steps out of the house.