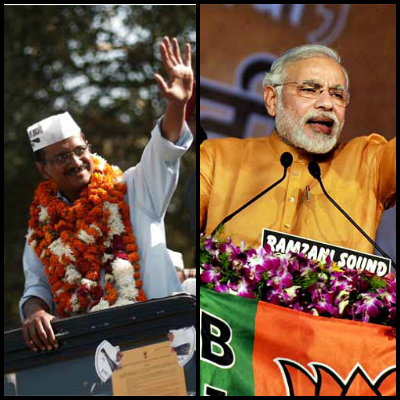 The final showdown in the 9th phase of voting in the Lok Sabha elections begins on May 12. In this longest ever election schedule, around 502 seats have already witnessed polling while the remaining 41 go to polls on Monday.
The most awaited three way fight in Varanasi will be witnessed in this phase. Here, Narendra Modi's claim of being the real "Ganga Putra" will be put to test against the aspirant AAP leader, Arvind Kejriwal and Congress's Ajai Rai.
In the run up to the 9th phase the campaign focus has primarily been on Varanasi. It has already witnessed a sparring show of strength between key contenders. The seat has also witnessed BJP's attack on the Election Commission of India (ECI).
Even Kerjiwal's open challenge to Modi there garnered a lot of popularity to AAP. He is billed to give a fight to Modi. The bureaucrat turned politician caused a huge upset when he defeated Sheila Dikshit in Delhi assembly elections 2013 putting his party into national focus.
Apart from Varanasi, the other main constituencies in the fray among others are Domariyaganj, Jaunpur, Krishna Nagar, Ranaghat, Jadavpur and Dum Dum. Around six seats will go for polls in Bihar and the stakes are high for JD (U) as it pinning its hope for the last phase.
In West Bengal, 17 seats will go for polls. In many seats multi-cornered contests are going on. The Trinamool Congress is fighting a Lok Sabha election on its own for the first time and claims to be the main contender among the Third Front.
In these constituencies asking for votes through social media has become a popular trend. Taking the charge ahead of BJP and Congress, AAP has fielded 37.5 % social media savvy candidates in this phase. BJP and Congress follow with 33.33 % and 27.02 % candidates respectively.
The key constituencies along with a list of celebrities are quite evident in the last phase as well. Congress defector Jagdambika Pal will contest from Domariyaganj, Kalraj Mishra from Deoria, Ravi Kishan from Jaunpur and P.C Sarkar Jr. from Barasat among others, are in fray.
According to Association for Democratic Reforms (ADR) in the last phase, 119 (20 %) candidates have declared criminal cases against themselves. Moreover, 92 (15 %) candidates are also facing serious criminal cases.
AAP has fielded maximum young and women candidates. It has fielded the maximum number of young candidates (62.5 %) while BJP comes second with 46.15 % and Congress at 43.24 %.
Very few women candidates are fighting in this phase. While Congress has fielded six female contestants, BJP and AAP lag behind with only one and zero women contenders respectively.