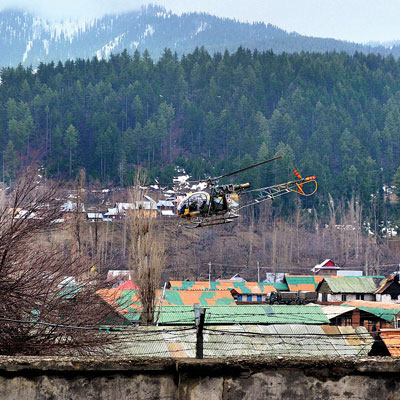 Two days ahead of the first phase of polls in Jammu and Kashmir, Lashkar-e-Taiba militants launched a surprise attack on the security forces' search party killing three of their men, including a junior commissioned officer (JCO), and injuring seven others in Gund Zoonareshi village of the border district of Kupwara.
Two militants, who were hiding in the house, were later gunned down by the forces in the ensuing encounter.
Police said acting on the specific intelligence information, a joint cordon and search operation was launched by the police and army in village Gund Zoonareshi on Monday evening. When the search party was moving towards the target, the militants, who were hiding, fired on the troops triggering a fierce encounter.
Security forces rushed in the reinforcements and tightened the cordon during the night.
On the first light of Tuesday, the security forces resumed the operation and gunned down the two LeT ultras who were hiding in the house. Unconfirmed reports said the two policemen were killed by the ultras when they tried to storm the house in which they were hiding.
"Head constable Mohammad Shafi, constable Riyaz Ahmad and Naib Subedar Kakanvari of army were martyred in the gunfight. Four policemen and two army jawans were injured during the encounter. A
woman, Shahmaali Begum, suffered injuries in her leg," said a police spokesman.
The incident occurred just two days before the first phase of polls begin in Jammu and Kashmir. Jammu parliamentary constituency is going to polls on April 10.
In a separate incident, unknown militants shot at and injured a policeman, Shabir Ahmad, at Lal Chowk in south Kashmir district of Anantnag. He has been shifted to Sher-e-Kashmir Institute of Medical
Sciences Srinagar for treatment. "Police have launched a manhunt to nab the assailants," said the spokesman.
In another operation, police and 52 Rashtriya Riffles recovered a huge cache of arms and ammunition from a hideout at Sherpora village in Baramulla district. The seizure included one AK-47 rifle, two AK magazines, 50 AK rounds and 01 Pouch. Police have registered a case in this regard.