The ninth edition of the fest saw 25% more footfalls than last year; over 10,000 books sold.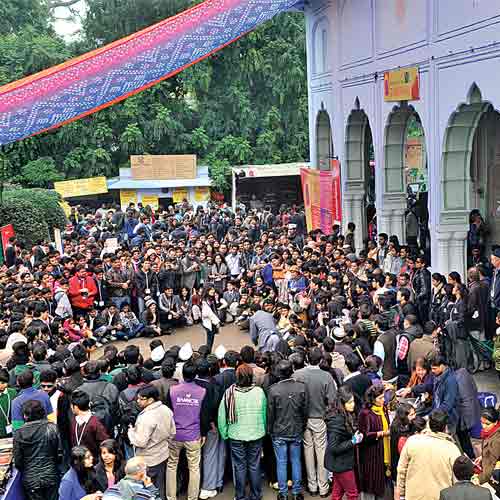 It started with a party at the picturesque Rambagh palace and it ended at the five-star Le Meridien.
The ninth edition of the Zee Jaipur Literary Festival came to an end in the Pink City on Tuesday evening, thankfully with none of the controversy and agitation that marred the last one.
More than 200,000 people attended the festival held at the 400-year-old Diggi Palace hotel, an increase of 25% over last year. Sunday alone saw a footfall of about 75,000. More than 10,000 books were sold at the festival bookstore, mostly titles by the authors who were speaking at the fest. Around 750 media people covered the event, which prides itself on being the "largest free literary festival on earth".
The lit fest also saw the launch of Bookmark, a platform for publishing grade professionals at the nearby Narain Niwas, which attracted international heavyweights such as Alexandra Pringle, group editor-in-chief of Bloomsbury, and John Makinson, chairman of Penguin Random House.
The DSC South Asia Literary Prize for 2014 was announced at the fest. It went to Cyrus Mistry for Chronicles of a Corpse Bearer.
Among the eminent fiction authors at the fest this year were Jhumpa Lahiri, Rana Dasgupta, Jim Crace, and Jonathan Franzen. Then there were prominent academics from Harvard university such as Homi Bhabha, Michael Sandel, Emma Rothschild and Maya Jasanoff; and also Mary Beard, the renowned professor of classics at Cambridge. Besides, there was Nobel laureate in medicine Harold Varmus and mathematicians Jim al-Khalili and Marcus du Sautoy.
But by far the star of the lit fest was Reza Aslan, whose controversial book Zealot has been making waves everywhere. Festival director William Dalrymple described him as "rock star Reza".
The only dampers were the protest by the Karni Sena against Ekta Kapoor, who was at the fest to address a session, and the rain on the last day, which forced the organisers to shift the talks indoors. "It's like the early days of the lit fest when it was all so small and intimate," said one visitor, who had braved the wet weather to come listen to Crace and Tash Aw.